Guest blog: Don't fall for a #Fauxmance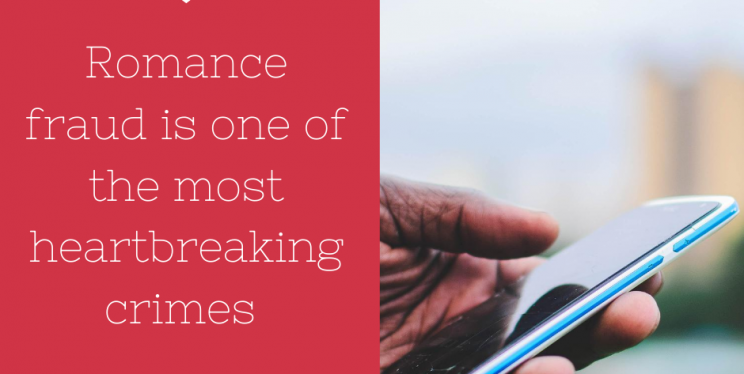 We spoke to an Avon and Somerset Cyber Protect Officer about romance fraud and how to stay safe online.
"The internet has changed the way we communicate. The addition of computers into our lives has given many of us the confidence to make connections with old friends, seek out new friends and even romance. However it can be difficult online to know whether the person you're speaking to is who they say they are.
"Romance fraud is a confidence trick in which offenders feign romantic feelings for someone in order to gain their affection and then use that goodwill to commit fraud. These fraudsters are very clever and know how to tug at the heartstrings of their victims to get them to send money, very often overseas.
"Romance fraud is one of the most heart-breaking crimes for victims because for many, they have invested months and even years into this relationship. It can be very difficult sometimes for the victim to realise they have been scammed, not wanting to believe that the person they have invested so much time in could have been using them.
"It's important to remember that no relationship, especially with someone you have never met in person, should require you to send money (even if this is for them to visit you). Requests for money for any reason should be a red flag no matter how convincing their story is.
"You should also exert caution over any person whose pictures are too good to be true, or who continually decline to videochat with you, this is likely because their real face doesn't match the glamorous person in the photograph.
"Although computers have allowed us the opportunity to date online and meet more people from across the world, it may be an idea to meet up sooner rather than later. This should always be in a public place and you should tell a friend or relative where you are going. By meeting in person you will be able to identify much quicker if the person you have spoken to online is lying about anything in their profile or within their messages to you.
"If you know of a friend or relative who spends a lot of time online, or is secretive of their computer, then it may be an idea to discuss romance fraud with them. If you're concerned that your words have had little impact and they have become too invested with their online love, involving the police or Action Fraud may help to prevent them losing further money.
"It's important for victims to know they are not alone and that real love is out there.
"Real romance grows over time with both parties usually wanting to meet each other in person and spend quality time with each other. If someone showers you with compliments and exclamations of love right away before asking for money then you can be sure they aren't looking for a genuine connection.
"Research dating companies and read their advice before beginning your online search for friendship or love. There are some fantastic people out there, unfortunately as with everything in life, there are also a few bad seeds but by arming yourself with the right information, you'll be more prepared to avoid them and find the right person for you."
Report it
If you or someone you know is a victim of fraud, please speak to someone:
Useful advice
For more information about fraud, visit Action Fraud.