Guest blog: 28 years as a Special Constable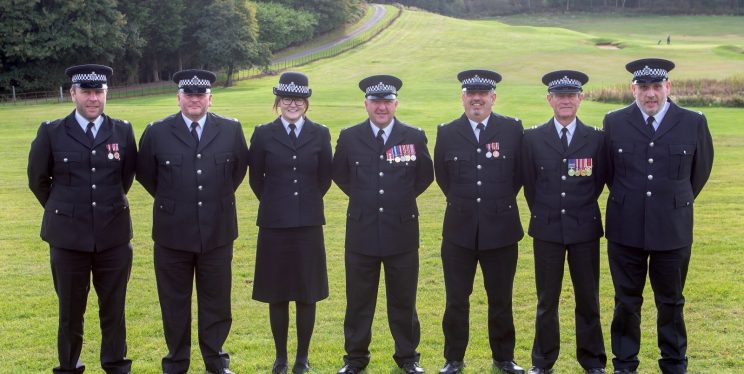 We spoke to Special Constable Simon Bale about his role and why he volunteered for Avon and Somerset Police.
"I am Simon Bale and I am a Special Constable stationed at Williton.  I have been a Special Constable for the last 28 years. When I joined I was working in a local builders merchants in a sales role, before accepting a position in the Police Control Room at Taunton where I worked for many years as both a despatcher and then supervisor before it's closure and our move to Headquarters. After two years I changed roles and for the last  four years I have been one of the Forces's Contingency Planning Officers.
"I joined the Special Constabulary following in my grandfather's footsteps who was the Special Sergeant at Williton Police Station in the 1960s and my intention was to join the regulars.
"After several years, having been accepted as a regular and given a start date I made the decision not to accept the role and remained in post as a control room supervisor and now as a Contingency Planning Officer within Avon and Somerset. However, I continued my front line policing as a Special Constable.
"I have worked over the years with a relatively small team of Special Constables, which has increased in numbers recently to a team of 12 stationed at Williton and Minehead Police Stations. Working alongside the very supportive regular officers of West Somerset we patrol the large and beautiful Exmoor National Park, Quantock Hills, and the associated urban population along the coastline including Minehead and Watchet, as far as the Nuclear Power Station at Hinkley Point, all the way down to the Devon and Cornwall Border.
"The variety of incidents we attend include the night time economy of the pubs and clubs of the towns and local holiday camps, anti-social behavior incidents, drug related crime, burglary, theft and rural crime including damage to the wildlife and environment. We also get involved in missing person searches on the moorland and coastline, working regularly with our multi-agency partners, gaining valuable knowledge and skills.
"Last year our team of Special Constables were recognised regionally for our proactive work in reducing anti-social behaviour, poaching and damage to the Exmoor National Park through a regular patrol plan.
"Volunteering is an important part of not only my life, but also that of my whole family. My parents are lifelong Scout Leaders, my brother and his wife volunteer running the local carnival and music festivals and my wife is a Brownie Guider.
"Volunteering as a Special Constable gives you a great satisfaction in helping other people from all walks of life and allows you to gain valuable life skills whilst dealing with a variety of situation. The team work and comradery that you gain working with both regular officers, other Specials and members of the other emergency services and partner agencies is brilliant.
"The opportunities and experiences you face make each and every duty interesting and satisfying, especially when you can come away having helped someone or the team. I was honored to receive in 2013 the MBE for services to community policing in Somerset for my work with the Special Constabulary.
"I find that volunteering as a Special Constable in my local community helps build relationships between the Police and the public. Local people not only see you in uniform patrolling but also off duty as a resident and being recognisable reassures my community that we will do all we can to listen and help them."