Being a victim of Hate Crime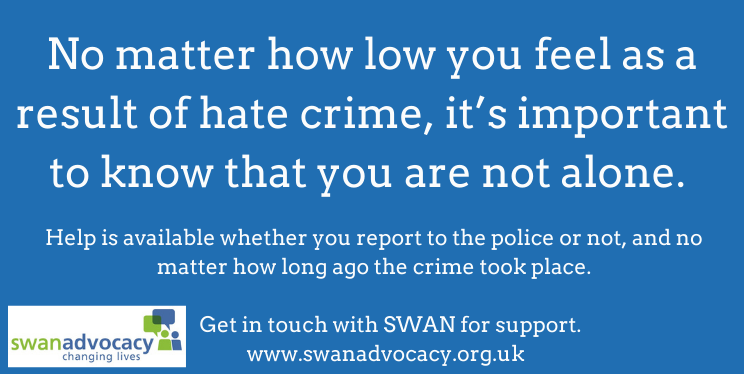 SWAN support victims across Avon and Somerset
Being the victim of a crime is never an easy experience. It often alters people's fundamental belief in the good of human nature and in living in a society where individuals respect the rights of other individuals. Being the victim of a hate crime is an additional burden, as everyone who experienced it knows. If you are lucky enough to have never been subjected to hate crime, put yourself for a moment in the position of someone who has. Take, as an example, racial hate crime.
Imagine being targeted for something you are, rather than something you have done or said. Maybe you have been targeted because of your country of origin, the colour of your skin, the way you look in general. Imagine feeling rejected as an individual. Imagine feeling the whole culture in which you grew up, everything that makes you proud to be who you are, being questioned, rejected and ridiculed.
This is what a lot of us are experiencing, often on a day to day basis. There is shame and some victims of hate crime are not even aware that what they are being subjected to is a crime. Hence, hate crime is probably one of the most underreported crimes in our country.
You are not alone
No matter how low you feel as a result of hate crime, it's important to know that you are not alone. Protection from hate crime is enshrined in law; our laws fundamentally reject the practice of discriminating against individuals based on who they are, whether this is related to disability, gender identity, race, sexual orientation, religion, or any other perceived difference. And there are services that offer help with the specific needs of victims of hate crime.
Our Victims of Crime Advocacy Service (VOCAS)
VOCAS provides an enhanced adult advocacy service along with practical and emotional support to victims of crime and anti-social behaviour (ASB). Our Victim Advocates speak up for people who, for whatever reason, feel unable to do so for themselves. The service is centred around the needs of the victim and the overarching principle that all support and advocacy is victim directed.
The service is available for adult victims eligible for enhanced service under the Code of Practice for Victims of Crime, including victims of hate crime who have barriers or additional support requirements.
We will advocate with relevant agencies on your behalf, making sure your voice is heard loud and clear. We will listen to you without prejudice and help you work through your emotions and any practical issues you may experience as a result of the crime you have been subjected to.
You do not need to have reported the incident to speak to us. We will give you the time and space to discuss your concerns and work with you to take the best possible action in order to alleviate them. If you need assistance with reporting, we will help you do that too. Most importantly, we will help you restore your confidence and belief in your fundamental right to be respected for the unique individual that you are.