Deputy PCC hears from Weston organisations supporting the most vulnerable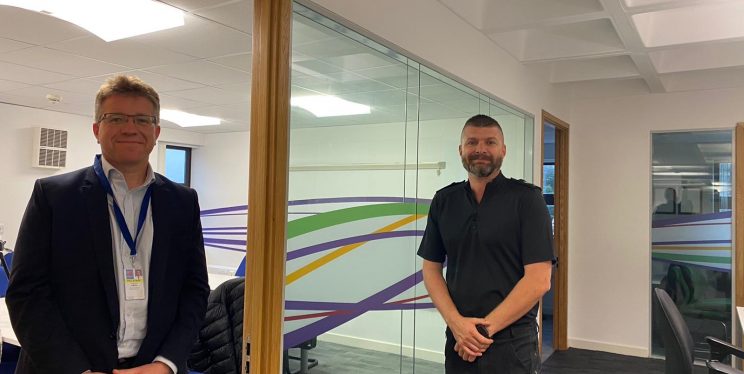 Deputy PCC John Smith and Sergeant Lee Kerslake
Deputy Police and Crime Commissioner (PCC) John Smith met with Weston charities and organisations who are helping to protect the most vulnerable from harm in the local area last Friday (2 October).
The devastating consequences of domestic abuse, county lines and substance abuse were highlighted to the Deputy PCC during his community day, which started with a virtual meeting with Voluntary Action North Somerset (VANS).
The Office of the Police and Crime Commissioner (OPCC) recently awarded VANS funding from the Ministry of Justice Covid-19 Extraordinary fund to support the Reclaim Project. The organisation offers counselling to anyone over 18 in North Somerset who has been affected by domestic abuse.
The team discussed the impact coronavirus has had on the service; the charity now offers virtual support and believe they are only now seeing the consequences of domestic abuse following the national lockdown. The organisation also shared their thoughts on the importance of educating young adults about healthy relationships and empowering people to speak out.
The Deputy PCC encouraged the Reclaim Project to apply for the Commissioner's Community Action Fund (CCAF) as an opportunity to further support the project.
"By listening to local charities and partners, I can ensure their voices are heard so we can all continue to improve services available for local people. Undoubtedly, this year has been challenging for many of our partners and the OPCC will continue to support them during and beyond the global health pandemic."

Deputy PCC John Smith
The Deputy PCC then met with We Are With You, formerly Addaction, who support victims of substance abuse and county lines. Like many other charities and services, We Are With You has adapted due to coronavirus and now offer numerous virtual groups to support local people as well setting up a covid-19 relief fund to help some clients buy phones and credit in order for them to access these groups.
The team and Deputy PCC discussed the support available to the homeless community and those coming out of prison. The Deputy PCC will share this feedback with the local reducing reoffending board.
Following this meeting, the Deputy PCC spoke virtually to the Somerset VRU and heard about interventions focusing on children and young adults are going to be launched in the coming weeks.
"It's important that we regularly meet with VRUs to find out how the OPCC's investment into tackling serious violence is making a difference in our communities. We need to ensure we are continuing to support the VRU teams to ensure the best projects are being delivered to local people."

Deputy PCC John Smith
Finally, the Deputy PCC filmed a webchat with Sergeant Lee Kerslake before accompanying the Weston Town Centre team for a walkabout alongside Weston-super-Mare Mayor Mark Canniford.
Click here to watch the webchat.