Encouraging victims of hate crime to be heard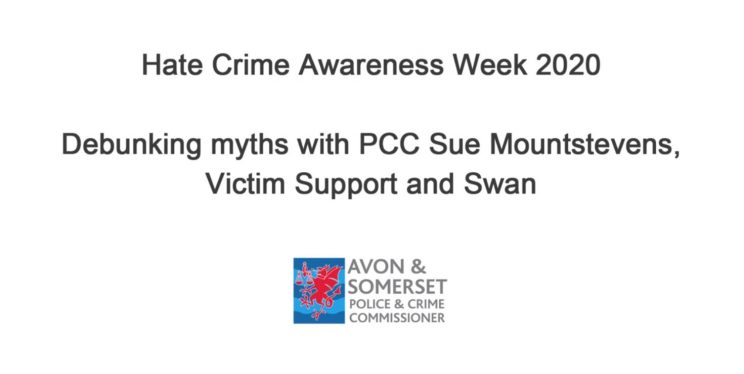 On Hate Crime Awareness Week, Police and Crime Commissioner (PCC) Sue Mountstevens spoke to Victim Support and SWAN to debunk the myths of hate crime.
Although many of us have taken the time to educate ourselves on the issue of hate crime, there is still some uncertainty about what hate crime is and when you should report it.
PCC Sue Mountstevens virtually met with representatives from Victim Support and SWAN to debunk some of the myths and statements regarding hate crime that are not true.
Speaking after the virtual meeting, PCC Sue Mountstevens said:
"I really hope you have found this conversation useful. If you're a victim reading this, please know you are not alone; there are organisations and individuals out there who can offer you help and support.
"As communities, if we see this behaviour we must challenge it and report it. We must help give victims of hate crime the confidence to speak to the police or partner agencies about their experience."
We continue to work closely with our partner organisations, including Victim Support, SWAN and other services, to support victims of hate crime.
By strengthening our relationship with local communities, raising awareness of what hate crime looks like, and educating people what to do if they are victim of hate crime, we hope to encourage victims to come forward to get the support they need and deserve.
Report a Hate Crime
If you are a victim of hate crime or if you have witnessed hate crime, please come forward.
Contact Victim Support:
Contact SWAN: