PCC meets with St Jude's community leaders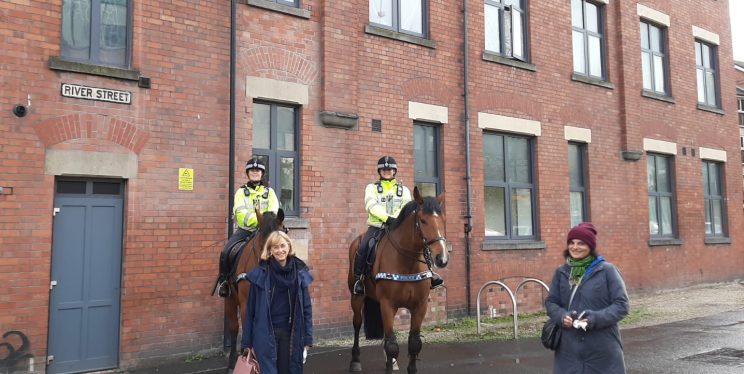 PCC Sue Mountstevens visited St Jude's to listen to residents' concerns about drugs and antisocial behaviour in their neighbourhood.
The PCC was joined by MP Thangam Debbonaire for a walkabout of the area on Friday 9 October, and met with the local policing team, community leaders and representatives from Bristol City Council to discuss local people's concerns and their suggestions about the approach needed to take action.
A number of issues were raised including visible drug dealing and the vulnerability of the children and young people in the area, as well as some anti-social behaviour from young people which has resulted in some local people feeling unsafe in the community.
The need to build more trust between the police and the community, to give people the confidence to report things when they happen, and the need to raise awareness of how to report crimes or antisocial behaviour anonymously was highlighted by residents in attendance.
During the meeting, several ways were identified in which the police and community organisations will strengthen the way they work together to help reassure local people and improve community safety.
"I want to thank everyone who came to talk to me about their concerns and how they believe the police can help tackle some of the issues.

"To meet with those important individuals on the ground – community leaders, residents, local police officers, housing officers and service providers – was invaluable and it is clear investment is needed in the area on all levels. I know that there is regeneration happening and there are some local community groups working very closely with Bristol City Council to consult on the development of the area and ensure the voices of local people are heard and that they are part of the process of how the area is improved for their benefit.

PCC Sue Mountstevens
PCC Sue Mountstevens added: "Residents deserve to feel safe in their neighbourhood and it is clear that the issues raised today cannot be solved by policing alone.
"We need a holistic, multi-agency approach that includes community services, education, health and, most importantly, local people. I want to assure people that I will be following up with agencies and organisations I met to ensure we are working together and taking the right steps to create a safer neighbourhood for local people."
MP Thangam Debbonaire added: "In normal times, I would be regularly knocking on doors to hear people's concerns. This is not possible right now, so it was extremely useful to speak with residents in a socially distant way. I am looking forward to another engagement day this week, when I will accompany the PCC and police on a walkabout in another part of my constituency.
Khalil Abdi said: "I appreciate the PCC, the MP and others visiting St Jude's. We all have one goal; to tackle anti-social behaviour in the area. It was a successful meeting and we highlighted the ways to encourage local people to become more involved with the police.
"I know we all hope that by working together as a team we can put residents' minds at ease so they can feel safe in their communities."