We need to stop history repeating itself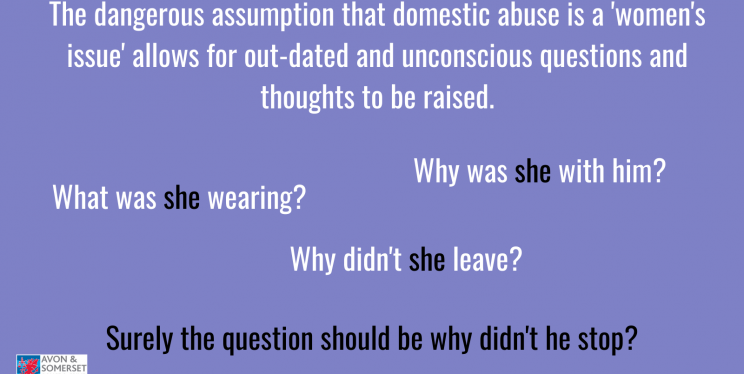 To mark the end of 16 days of action, PCC Sue Mountstevens reflects on the changes needed to stop women being victims of domestic abuse and why perpetrators need to be involved in the conversation.
"According to the latest Crime Survey for England and Wales, an estimated 2.4 million adults aged 16 – 74 years experienced domestic abuse in the last year. When we look closer at the figures, 1.6 million of these victims were women.
"We know that domestic abuse can affect any gender, any sexuality and individuals from any background and, without a doubt, this isn't as widely discussed as it should be. However, with 66% of domestic abuse victims being women and Women's Aid's research showing women are mostly subjected to abuse by male perpetrators, the evidence suggests domestic abuse is largely a gendered crime. In addition, data shows that men and women's experiences of domestic abuse differ; women are most likely to be repeat victims and are more likely to be seriously injured by a domestic abuser.
"My question is why? It's a question I've asked myself many times during my eight and a half years as Police and Crime Commissioner but more so during the annual 16 days of Activism against Gender-Based Violence. These 16 days is a time when charities, police forces and other organisations come together to shine a light on violence faced by women and girls across the world, reflect on what can be done to prevent such abuse and continue to support victims and survivors.
"Such a reflection has never felt more apt as women continue to be disproportionately affected by the ongoing coronavirus pandemic. According to the annual Bristol Women's Voice report, women and girls were put more at risk of domestic abuse as a result of safety precautions such as lockdown. The impact of domestic abuse on victims was twofold; survivors struggled to find ways out of the dangerous relationship or situation and were often spending the majority of their time at home with the offender. The uncertainty of coronavirus was further used by perpetrators to assert and justify their control.
"In my opinion, there are many explanations why women are more likely to be victims and men the perpetrators. I'm not sure I would be able to cover every reason why, but I believe the root cause is the societal inequality that still exists between women and men, girls and boys. I agree with Women's Aid's statement that there are 'sexist and misogynistic structures and notions that give root to and perpetuate domestic abuse' and until these are dismantled, violence against women and girls will not be stopped. There are various and intersecting institutions and systems including religion, sports, television, the business world and the family structure that all play a role in allowing violence towards women to continue.
"However, I fear that because women form the majority of domestic abuse victims, domestic abuse is considered a 'women's issue' and men are no longer part of the conversation. Professionals, charities and those in the criminal justice system know that this dangerous assumption that domestic violence is a 'women's issue' allows for out-dated and unconscious questions and thoughts to be raised; what was she wearing? Why was she with him? Why didn't she leave him? Not only are these questions rarely asked to male victims, but why are we asking these questions in the first place? Surely the question should be why didn't he stop? The bigger question is why do men and boys think it is okay to physically, emotionally, psychologically and verbally abuse women and girls?
"To help change this thought process, and ultimately victim blaming, we need to start working with the perpetrator. I know to some, this might seem like a controversial step but if it stops reoffending and prevents further abuse taking place, surely it is a much-needed approach?
"With one in four perpetrators being repeat offenders, some with as many as six victims, the offender needs to be involved in the conversation. We need to stop putting the onus on the victim to make the first move – whether that is reporting or leaving the house or relationship – and instead put the responsibility back onto the offender.
"This is why, my team and I are pleased to have recently co-commissioned the Drive Project to deliver an evidence-led approach that targets perpetrators' behaviour. By stopping the cycle of reoffending, we increase victim and survivor safety and stop the abuse, and I feel that Drive is an opportunity to make long-term change for victims and their families.
"For those fortunate enough, domestic abuse might not be a crime you or a loved one has ever experienced but this doesn't mean it isn't your problem. As bystanders, we all have a role to play, especially men, to ensure it is not just a 'woman's problem' and to create positive social change.
"I encourage you to watch Jackson Katz's Ted talk about domestic abuse where he discusses the bystander approach in detail. In summary, we all have to have the courage to act. This might mean calling a colleague out when they make a misogynist joke, or questioning why a group of lads are harassing a girl on the bus, or making a phone call to the police because you're worried about the woman next door even though you've never spoken to her. These seemingly small acts will make a difference; it will stop others in the room thinking such comments are appropriate, it will hopefully make those young boys think about how the young girl feels and she will know someone is on her side, it might even prevent your neighbour from being further victimised by her partner.
"As my time as PCC, I know there are an awful lot of people – men and women – who care about domestic abuse and want to make a change. Now is the time to show courage, to try something different and to look at the bigger picture to stop more women and girls becoming victims. Let's stop history repeating itself over and over again. I know we can do it."