Annual report highlights collaborative solutions to support young people and reduce serious violence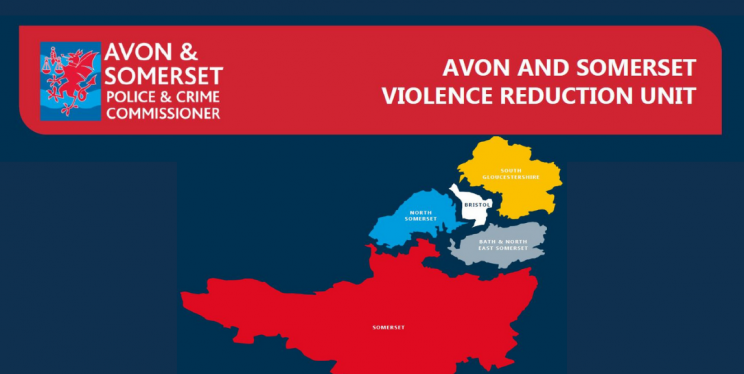 Launched today (23 February), the Avon and Somerset Violence Reduction Unit (VRU) annual report highlights 11.5% reduction in serious violence in the force area.
Since their inception in August 2019, the five local spokes of the VRU have dedicated their resources to providing a collaborative, innovative and public-health approach to support young people and reduce serious violence in our communities.
Although this reduction is partly due to the ongoing pandemic, the VRU and other local support services have played a key role in supporting young people and diverting them away from crime and anti-social behaviour.
By taking a partnership approach, collaborating with police, health and other supportive partners, the VRU has supported:
736 young people at risk of serious violence through multi-agency VRU meetings
597 young people through targeted interventions
766 young people through universal programmes in schools
392 professionals through training on exploitation, Adverse Childhood Experiences (ACEs) and Trauma Informed Practice
PCC Sue Mountstevens said: "The five spokes of the Violence Reduction Unit are now well established across Avon and Somerset and they continue to provide innovative and collaborative solutions to support young people in our communities.
"Despite many challenges and increasing concern due to the impact of the pandemic, the commitment from our partners has been inspiring and the five local VRUs have been able to make real impactful change to those who need it most."
A partnership approach is proven to have positive outcomes on young people, such as Kris from South Gloucestershire.

14 year old Kris was known in his local area for anti-social behaviour and was seen threatening students who attended the same school from which he had been excluded. Kris was investigated by the police as part of a group who had tried to commit a robbery at a local shop using a knife.

Contextual safeguarding and investigation by the police, the anti-social behaviour team and the Violence Reduction Officer (VRO) revealed he had a number of associations who were involved in the same behaviour. Kris was referred to safeguarding and offered support from social care.

The VRO worked alongside social care staff to identify any issues of exploitation, gang membership and knife possession. Working collaboratively, partner organisations identified that Kris had significant Adverse Childhood Experiences (ACEs) and collectively they implemented a comprehensive package of support.

Social care worked on supporting his education and home situation whilst the VRO delivered inputs on knife crime and gang membership. The joined up approach has broken up the original group who caused so much disruption in the local area, has stabilised the family situation for Kris and brought an end to his anti-social behaviour and criminality.

Kris is now attending school and is part of a mentoring scheme with a view to gaining qualifications and completing an apprenticeship when he is eligible.
Deputy PCC John Smith said: "Taking a partnership approach, with a focus on public health, is at the heart of Avon and Somerset VRUs commitment to tackling serious violence in our communities.
"Kris' story shows the importance of collaborating and taking a compassionate approach to steering young people away from violence and into a more positive future for themselves and for local people."
Earlier this month the Home Office announced that the funding for VRUs will be extended for 2021/22. The Avon and Somerset VRU has been allocated £1.16 million for the financial year beginning April 2021, part of a national pot of £35 million. The announcement provides the VRUs with stability for the next 12 months and will continue to support young people and will dedicate their resource to reduce serious violence and make our communities safer.
Avon and Somerset Police lead for serious violence, Superintendent James Raphael said: "Our approach to serious violence has always been to combine engagement and diversionary tactics alongside enforcement.
"Working within the VRUs has helped to strengthen that approach. Improved data sharing between partners helps us to allocate the right resources in the right areas, and to make sure that those communities and individuals that need our help are receiving the support they need.
"Our dedicated VRU PCSOs work closely with schools and young people, providing ongoing support and intervention and VRU Sergeants, supported by our local neighbourhood teams, are shaping our response within communities, both in terms of enforcement and in the diversionary work that's underway.
"We're delighted that funding for the VRUs has been extended for a further 12 months – a sustained commitment to this work is vital if we are to make a lasting impact within our communities."
In February, local leaders from each of the five local authorities joined the Strategic VRU Governance Board to discuss the work taking place within each of the local VRUs. They showed their support for the work taking place to reduce serious violence and welcomed the additional funding from the Home Office.
---
Cllr David Fothergill, Leader of Somerset County Council said: "The Somerset Violence Reduction Unit has worked incredibly hard together to improve the health and safety of all our residents by identifying and then addressing underlying risk factors that may increase the likelihood of an individual becoming a victim or a perpetrator of violence, which already is seeing great results.
"Last year's Somerset Serious Violence Reduction Strategy was ambitious and set out priorities that were far ranging – requiring action not just from the Somerset Violence Reduction Unit, but from across all multi-agency partnerships in Somerset. I am incredibly proud of what has been achieved in such a short span of time and am excited to see what can be achieved in future now that the Home Office has announced extending the funding for the next year."
---
Cllr Rachael Hunt, South Gloucestershire Council's Cabinet Member for Communities and Local Places said: "The Violence Reduction Unit has enabled us to put support and interventions in place to safeguard many of our young people who have been the victims of exploitation. It provides training to professionals raising awareness of exploitation, County Lines drug activity and knife crime, and we've seen it bring partnership working on the topics of violent crime and exploitation closer together, improving information sharing and the identification of young people at risk of harm."
---
Cllr Dine Romero, Leader of Bath and North East Somerset Council, said: "Serious violence is a complex issue that can affect the families involved for generations to come. It needs organisations to work in partnership help people out of destructive cycles and spot people who have fallen victim to criminal exploitation. I'm pleased to see the work of the Violence Reduction Unit is beginning to make a positive difference for people in our area."
---
Cllr Don Davies, Leader of North Somerset Council, said: "Our ongoing youth violence research project, as well as updated problem profile, will help identify further opportunities to work with young people and help reduce violent crime in our area through diversionary activities, mentoring provisions and education."