Don't fall for romance fraud this Valentine's Day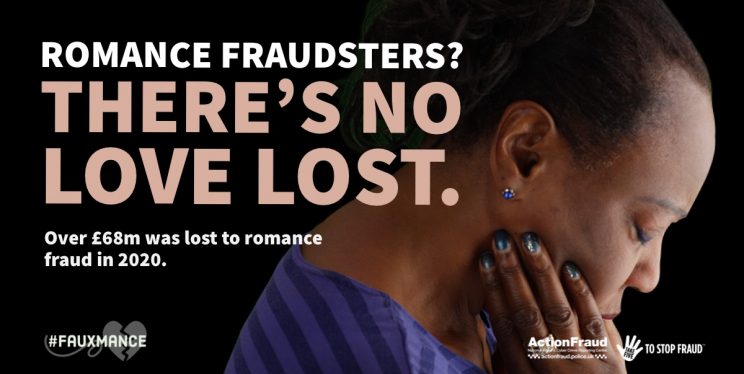 PCC Sue Mountstevens and Avon and Somerset Police are encouraging local people to know the signs of romance fraud to stay safe online.
Fraudsters are capitalising on people's loneliness and increasing use of social media and dating apps as a result of the pandemic. According to Action Fraud, in 2020 there were 218 reports of romance fraud in Avon and Somerset compared to 151 in 2019, an increase of 44%. It is believed the true figure of people being tricked into giving over money to fraudsters is likely to be much higher.
Romance fraud is when offenders feign romantic feelings for someone online in order to gain their affection and then use that goodwill to commit fraud. Fraudsters effectively groom their victim using various psychological techniques to build trust while, in reality, the offender is not who they say they are and will be talking to a number of other people in the same way.
Once fraudsters have created a trust between themselves and the victim, they gradually start to introduce money into the conversation and begin to make requests. Such requests usually start of small and might be for things such as phone credit. These requests will escalate and fraudsters will start asking for money for things such as flight tickets, to help a sick relative or to assist with complications at customs.
Most victims do not realise they have been scammed and some do not want to believe that the person they have invested so much time in could have been using them.
"Romance fraud is a heart-breaking crime as many victims have invested so much time into someone they think has feelings for them when, in reality, it has all been a wicked lie to commit fraud. I know victims often feel ashamed when they realise they have been scammed but please know support and help is available from both the police and Action Fraud. No one will judge you.

"I urge everyone to know how to spot the signs of online fraud and romantic fraud to ensure you or a loved one does not become a victim of this deceitful crime."

PCC Sue Mountstevens
Fraud Protect Officer Amy Horrobin added: "We'd urge anyone who has been a victim of romance fraud to report it to Action Fraud. Reporting such scams helps to build up vital intelligence and could potentially prevent anyone else falling victim and handing over money.
"We believe some people are reluctant to come forward as they feel embarrassed and sometimes hide their losses from friends or family. However, they should feel no shame because these criminals are predatory and groom their victims. If in doubt, we'd recommend contacting Action Fraud or the police for advice. Alternatively, try speaking with a friend or family member who can provide another perspective."
It is important for everyone to remember that no relationship, especially with someone you have never met in person, should require you to send money. Requests for money for any reason should be a red flag.
Protecting yourself from romance fraud

Avoid giving away too many personal details when speaking online to someone you've never met and never disclose security details such as PINs or full passwords
Stay on the site's messaging service until you meet in person and know they are genuine. Criminals want to quickly switch to other platforms that are less regulated. If something doesn't feel right when talking to them on the dating or social media app, report them. This will also help protect others.
It's important that no matter how long you've been speaking to someone online and how much you trust them, if you haven't met them in person do not:

Send them any money
Allow them to access your bank account
Transfer money on their behalf
Take a loan out for them
Provide copies of your personal documents such as passports or driving licence
Invest your own money on their behalf or their advice
Purchase and send the codes on gift cards from Amazon or iTunes
Agree to receive and/or send parcels on their behalf

Remember that the police and Action Fraud are there to help and support
Keep asking questions to check if the person's story holds up, especially if they start asking for money and keep family and friends in the loop – if someone is asking for money, tell a loved one and ask for their opinion
Report it
If you or someone you know is a victim of fraud, please speak to someone: