Guest blog: Don't fall for romance fraud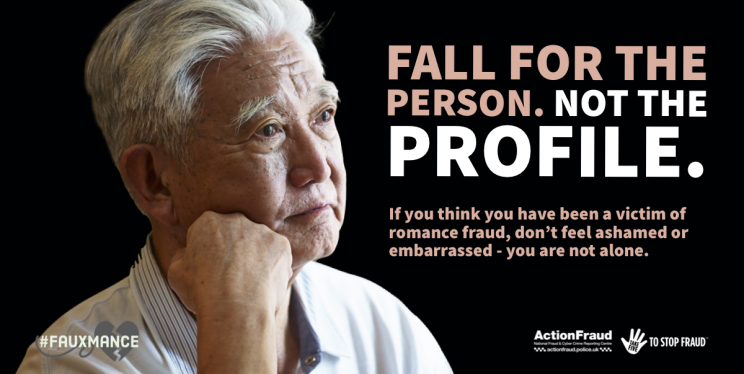 We spoke to Avon and Somerset Police's Fraud team and Cyber team about romance fraud and how to stay safe online.
"The internet, and especially the ongoing pandemic, has changed the way we all communicate. During a time when we need to keep our physical distance from others and our day-to-day lives have changed, many people feel extremely lonely and are increasingly turning to online apps to start or build relationships. However, it can be difficult to know whether the person you're speaking to online is who they say they are.
"Romance fraud is a confidence trick in which offenders feign romantic feelings for someone in order to gain their affection and then use that goodwill to commit fraud. The offenders use well-rehearsed scams and gradually entice their victims over time.
"Using various psychological techniques, they build trust by establishing common ground with the victim including religion, similar relationship experiences and health issues to name a few. This is effectively a grooming process. In reality the fraudsters are not who they say they are and will be talking to a number of other people in the same way.
"Fraudsters also tend to have similar profiles, phrase or back stories that they will tell victims:
They declare love quickly and talk about big relationship commitments
They are difficult to get face to face contact including video chat
They claim to work overseas, working in the military or medical profession that suggests they are heroic but gives an excuse for poor connectivity
They make lots of excuses when they are not contactable as it allows for the conversations to be on their terms
They encourage you to keep your relationship private from friends and family
Their pictures are perfect and might not match up with what they tell you about themselves. Performing a reverse image search on Google can find photos that have been taken from somewhere or someone else.
"Offenders will always be keen to move away from the dating site or app onto an alternative communication platform –  such as Whatsapp or Google Hangouts – as quickly as possible, so if someone reports them and their profile is removed they will still be able to contact the victim.
"Once the fraudster has created trust between themselves and the victim, they gradually start to introduce money into the conversation and begin to make requests, usually with the promise of meeting the victim or insisting they will return the money.
"Such requests usually start off small as a 'testing the waters' process and might be for things such as phone credit. These requests will escalate and fraudsters will start asking for money for flight tickets, to help a sick relative or to assist with complications at customs.
"It is becoming more common for fraudsters to request money to "release" a parcel, good or inheritance money – this "release" of money doesn't even exist. The offender might even involve a third party in this process such as a "solicitor" but, more often than not, this is the fraudster "being" two people to further create trust and authenticate their story.
Romance fraud is one of the most heart-breaking crimes for victims because, for many, they have invested months and possibly even years into the relationship. It can be difficult sometimes for the victim to realise they have been scammed, not wanting to believe that the person they have invested so much time in could have been using them.
Once someone has fallen victim to a scam, they are more likely to receive an increased amount of communication from other fraudsters as they share victim details with each other. The same fraudster(s) could reach out to victims again hiding behind a new profile.
It is important for everyone to remember that no relationship, especially with someone you have never met in person, should require you to send money. Requests for money for any reason should be a red flag no matter how convincing.
Protecting yourself from romance fraud

Avoid giving away too many personal details when speaking online to someone you've never met and never disclosure security details such as PINs or full passwords
Stay on the site's messaging service until you meet in person and know they are genuine. Criminals want to quickly switch to other platforms that are less regulated. If something doesn't feel right when talking to them on the dating or social media app, report them. This will also help protect others.
It's important that no matter how long you've been speaking to someone online and how much you trust them, if you haven't met them in person do not:

Send them any money
Allow them to access your bank account
Transfer money on their behalf
Take a loan out for them
Provide copies of your personal documents such as passports or driving licence
Invest your own money on their behalf or their advice
Purchase and send the codes on gift cards from Amazon or iTunes
Agree to receive and/or send parcel on their behalf

Remember that the police and Action Fraud are there to help and support
Keep asking questions to check if the person's story holds up, especially if they start asking for money and keep family and friends in the loop – if someone is asking for money, tell a loved one and ask for their opinion
Report it
If you or someone you know is a victim of fraud, please speak to someone: