PCC and Domestic Abuse Commissioner host virtual event for local victim services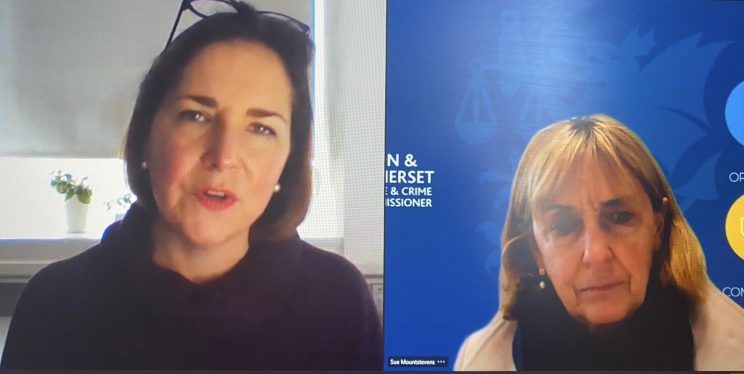 Local domestic abuse services and partners had the chance for their questions to be put to newly appointed Domestic Abuse (DA) Commissioner Nicole Jacobs as part of a virtual Q&A chaired by PCC Sue Mountstevens.
Over 60 colleagues from local victim services, Avon and Somerset Police and local authorities attended the virtual event, which aimed to give the new Domestic Abuse Commissioner the chance to share more information about her role and answer questions from those working with victims on the frontline.
The role of the Domestic Abuse Commissioner is to drive improvements on the response to domestic abuse in the UK, championing victims and making recommendations regarding what should be done to better protect victims and bring more offenders to justice.
"I was delighted that Nicole was able to join us for this special virtual event in which those who work with victims every day had their questions answered by the Domestic Abuse Commissioner.

"The pandemic has further highlighted what myself and victim services have known for many years; domestic abuse is everyone's concern. Conversations about sustainable funding and support for services that are a lifeline for victims needs to be happening at the very top – amongst Government officials – and I am pleased that Nicole is in our corner representing both victim providers and survivors.

PCC Sue Mountstevens
Domestic Abuse Commissioner Nicole Jacobs added: "I was really pleased to have been able to take part in this event and was encouraged to see the great work Avon and Somerset PCC Sue Mountstevens has been doing to strengthen local strategic partnerships to tackle domestic abuse. It is essential that we take a holistic approach to this devastating crime.
"The prevalence of domestic abuse across England and Wales remain far too high across all communities and I hope the Domestic Abuse Bill will help us to ensure an integrated and joined up approach on domestic abuse.
"The pandemic has meant that the last year has been incredibly difficult and challenging for domestic abuse victims as well as services and frontline workers. I know that many frontline staff have felt overwhelmed and under a huge amount of pressure, and I can't thank them enough for the lifesaving work they are doing."
The virtual event follows the Ministry of Justice announcing additional one-year funding to further support victims and survivors of domestic abuse and sexual violence.
The new investment aims to support organisations to recruit more staff, keep helplines open for longer and adapt to remote counselling where necessary – ensuring help remains available for those victims and survivors who need it.
Watch the virtual event below: