PCC reminds victims of sexual abuse they are not alone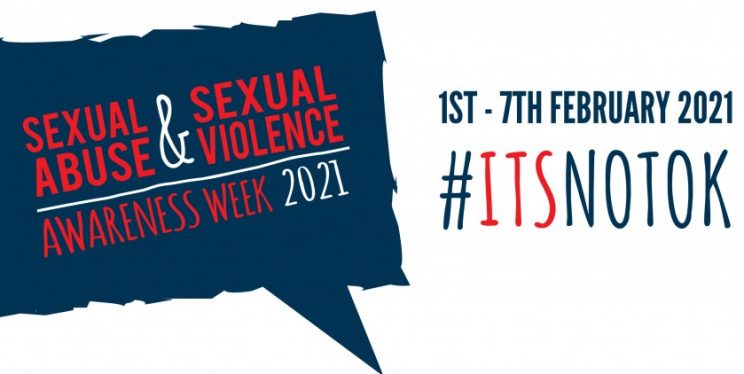 PCC Sue Mountstevens is reminding victims and survivors of sexual violence that they are not alone and, despite the pandemic and lockdown restrictions, support is available.
The PCC is supporting this week's National Sexual Abuse and Sexual Violence Awareness campaign #ItsNotOkay, which aims to raise awareness of such crimes and encourage victims to not stay silent about their experiences.
As part of the awareness week, local victim service SARSAS put a question to the PCC and Chief Constable Andy Marsh as part of their regular Facebook Live. Claire Bloor, CEO of SARSAS, asked what support officers receive to ensure their response to survivors is trauma informed? To listen to the PCC and Chief Constable's response, watch the latest Facebook Live.
"Sexual violence is not okay. It is unacceptable. These crimes cannot go under the radar because of the pandemic and we need to shout about the fact that victims of domestic abuse – including sexual violence – can leave their house to escape a dangerous situation or relationship. Lockdown restrictions do not apply if victims or survivors need to leave their home to protect themselves or their family against violence.

"Sexual violence is also happening at house parties and raves that are taking place. Although these gatherings break coronavirus rules, this does not mean that victims need to remain silent. We want victims of these appalling crimes to come forward and, no matter where or when it happened, you will be supported. You are not alone."

PCC Sue Mountstevens
Victim support services across Avon and Somerset have gone above and beyond during the pandemic to continue to support survivors. Support is being delivered remotely via phone, webchat and video chat, and helplines remain active for those who want to access support.
"We need to send a strong message out to everyone that committing rape and sexual assault is never ok and that there is never an excuse. In the last year, we have supported over 1,400 women, men and children who have been victims of rape and sexual assault, and the impact on each of those individuals has been devastating and life changing.

"We also know that many victims never tell anyone what has happened to them, so it's vital that all victims and survivors know that it is never their fault and that help and support is always available. We know that victims and survivors who receive help do recover and go onto lead fulfilling lives."

Sarah O'Leary, CEO of Safe Link
Victims of sexual violence can access help whether they choose to report the crime to the police or not, and no matter how long ago the incident took place. If you are concerned about a loved one or witnessed an incident and want to remain anonymous, you can report via Crimestoppers.
Report it
Domestic abuse can be abusive physical, emotional, psychological, financial or sexual behaviour between adults in a relationship or between family members.
If you or someone you know is at risk of domestic abuse or sexual violence, please speak to someone:
Support for victims and survivors
Help is available whether you report to the police or not, and no matter how long ago the crime took place. Find out more about local support services.