New service to support women Court Up in the criminal justice system announced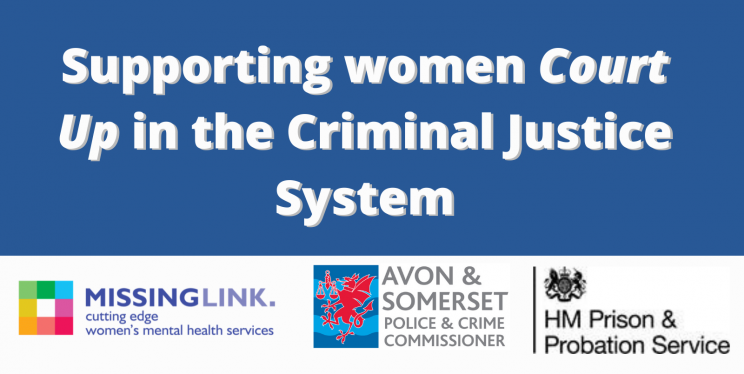 PCC Sue Mountstevens and the National Probation Service (NPS) are pleased to announce a new partnership with Missing Link to provide a new service at Bristol Magistrates Court to support women "court up" in the Criminal Justice System.
In 2017, almost 75% of women sentenced to custody were there for less than 6 months. Short-term sentences do not allow time for rehabilitation and, unfortunately allow opportunities to disrupt and devastate a number of key protective services on their release, such as accommodation, employment and family services.
The pioneering new service, Court Up, aims to divert women away from such short term custodial sentences, which are proven to damage a number of supportive pathways, sometimes irrevocably.
Provided by Missing Link, the service will contact eligible service users on the morning of their attendance at Bristol Magistrates Court to provide an opportunity to engage with them and find solutions to suit their unique needs.
Launching in Spring this year, the service will take a trauma-informed approach to centre on the needs of women, seeking to help them articulate their needs and empowering them to find solutions. By taking a collaborative, constructive and innovative multi-agency approach, the service will ensure women have access to the best provision at the right time to support them in stepping away from the CJS and returning to lives free from offending.
Women will be supported to return to work or education, find housing, receive financial support, reduce social isolation and improve relationships with others.
The service will take a multi-agency approach, working closely with the NPS as well as local voluntary support services, Avon and Somerset Police, Her Majesties Prison Service, Lighthouse Victim Care, Crown Prosecution Service, NHS, local authority safeguard teams, Her Majesties Courts and Tribunals Service and local women-specific services.
"I am delighted to have commissioned Missing Link to provide this unique service for women. The causes of women's offending can be complex and this service will help to provide women with the support they need.

"Short-term custodial sentences are proven to devastate women's access to support services and I am confident that Court Up will reduce the number of women given custodial sentences and will help women lead fulfilled lives away from offending."

PCC Sue Mountstevens
Sarah O'Leary, CEO at Missing Link said: "We are delighted to have the opportunity to provide this vital service for women caught up in offending behaviour. Having 35 years' experience of successfully delivering support to women with mental health and complex needs, and victims of domestic and sexual abuse, we understand the complexity of issues that can cause offending behaviour."
"We are excited to be working with Missing Link on this project and look forward to improving outcomes for women in the Criminal Justice System by supporting them in Court and in accessing appropriate services."

Katy Trundley, Head of National Probation Service for Bristol and South Gloucestershire