Guest blog: Stephen Lawrence Day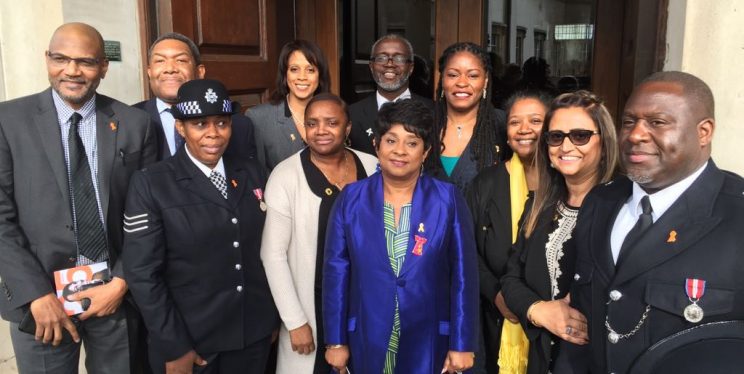 Baroness Doreen Lawrence is pictured in April 2018 outside St Martin-in-the-Fields shortly after the Prime Minister announced that 22 April would be commemorated as Stephen Lawrence day. DI Munro is directly behind her.
We spoke to Detective Inspector Tola Munro about the importance of Stephen Lawrence Day and new Fullbright-Stephen Lawrence Scholar Award in Policing.
"The recent news of the conviction of the US white police officer for killing George Floyd, a black man in Minneapolis, reminded me of first hearing Stephen Lawrence's name. Looking back, I'm not sure if I heard his name soon after his killing in 1993 or later when Nelson Mandela took up the cause on behalf of his parents. Although Stephen was not killed by police – instead murdered by a racist gang – justice for his unnecessary death was hampered by a badly botched investigation.
"As I'm writing this blog and reflecting on Stephen Lawrence Day, I am struggling to articulate how much every racist death involving the police impacts me as a black person. It feels personal as if it is part of me being harmed. The only way I can describe my feelings when I hear of another death as a result of racism is like my heart is being ripped out. It's difficult to put into words the effect these horrendous incidents have on me and, if you cannot understand such feelings, please try to empathise what over 300 years of historic slavery and oppression feels like even now to those of us of an African or Caribbean heritage.
"The Macpherson enquiry into Stephen's death, and his finding of institutional racism spurred a childhood interest to join policing, which came to fruition in 2006 when I joined Gwent Police. I moved into CID around the same time the murder trial of the two suspects was taking place. The impact of Stephen's story continued to affect me, especially when, in 2014, I visited the plaque at the scene of Stephens' death and during my time as President of the National Black Police Association (NBPA) from 2017 – 2020 when I was able to meet with Baroness Doreen Lawrence and Dr Neville Lawrence. 
"In April 2018 at a National Police Chief Council's Race, Religion and Belief Group that I had my opportunity to give something to the Lawrence family on behalf of policing. The Chair of the group, John Boutcher – then Chief Constable of Bedfordshire Police – noted that there was an increasing number of officers and staff who were born after Stephen's killing. John asked the group how we could commemorate the forthcoming 25th anniversary of Stephen's death on 22nd April. I looked directly across the table at representative for the Association for PCCs (APCC) David Munro – no relation! –and PCC for Surrey and suggested that it would be great if there was a policing award in Stephen's name.
"As a result of that conversation, the Fulbright-Stephen Lawrence Scholar Award in Policing will shortly be launched. The award has been progressed and co-sponsored by the NBPA and APCC. The individual who wins the award will visit the US for three months during the academic year 2021-22 to conduct research on race in policing, provide a new way of thinking in a variety of relevant areas to the police and foster relationships between the US and UK.
"The awardee will be hosted by North Carolina Central University, Howard University and the University of the District of Columbia. All three are historic Black Universities founded during the era of slavery and the Jim Crow laws that legalised racial segregation between whites and blacks in the US.
"Along with 13 other PCCs, the Mayor's Office for London and Northern Ireland Policing Board, Avon and Somerset's own PCC Sue Mountstevens has kindly contributed to the bursary of nearly £30,000. From the beginning, it was important to me that the funding came from within policing; this is the first policing related award in Stephen's name and will continue to act as a reminder of why we do what we do. Personally, it will serve as a reminder of the praiseworthy achievements of the police – for which there are many – and why I am proud to be a black Detective Inspector with Avon and Somerset Police."