Over £1million in funding for IDVAs and ISVAs in Avon and Somerset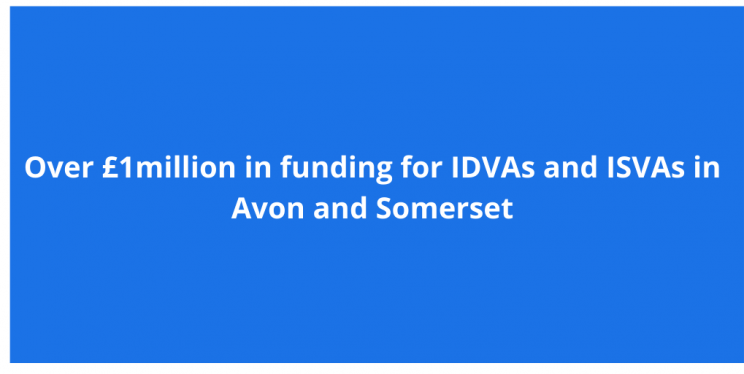 The Office of the Police and Crime Commissioner (OPCC) has been successful in securing a major investment to further support victims of domestic abuse and sexual violence.
The OPCC Commissioning Team has received over £1million in funding from the Ministry of Justice for 23 Independent Domestic Violence Advisor (IDVA) roles and eight Independent Sexual Violence Advisor (ISVA) roles to support victims across the force area.
Working alongside local authorities, local partners and victim services commissioned by the OPCC, the ISVAs and IDVAs will provide practical and emotional support and advocacy for victims and survivors of domestic abuse and sexual violence.
A number of these new IDVAs and ISVAs will be specialist roles to ensure everyone who is a victim of domestic abuse or violence receives the support they need. Such specialisms include working with Black and Minority Ethnic victims, elderly victims, children and young people, victims in rural communities, victims of economic abuse, victims with complex needs and/or learning disabilities, male victims, LGBT+ victims and victims with mental health issues and illnesses.
"I am proud that the OPCC Commissioning Team were so successful in receiving this Government funding and, as a result of their hard work, we are receiving one of our largest funding achievements for victim services.

"I am grateful to the Government and Ministry of Justice in recognising the need to provide and bolster such important services during this challenging time and I look forward to supporting the work of the new ISVAs and IDVAs."

PCC Mark Shelford
Sarah O'Leary, CEO of Next Link Domestic Abuse and SAFE Link Sexual Violence support services said: "We are delighted and very grateful to receive this funding for 15 IDVAs to work across Bristol, North Somerset and South Gloucestershire, and eight ISVAs across Avon and Somerset. The additional funding will enable us to respond to an increase in adult and child victim-survivors of domestic and sexual violence and abuse from all communities who need help with their safety and support to recover.
"We are delighted to receive this funding from the Ministry of Justice, which will help aid the vital work being done in South Gloucestershire to support survivors of domestic abuse.

"These new specialist roles include experience of working with a diverse range of people and will help ensure that everyone in our area who is a victim or survivor of domestic abuse or violence receives the support they need."

Councillor Rachael Hunt, South Gloucestershire Council's Cabinet Member for Communities and Local Place
Councillor Dine Romero, cabinet member for Children and Young People, Communities and Culture at Bath & North East Somerset Council, added: "Many of our local support services have seen an increase in the number of survivors of sexual and domestic abuse seeking help as we emerge from Covid restrictions. This targeted funding will ensure they get the support they need through the fantastic recovery and counselling services provided by Trauma Breakthrough, Southside and Voices."
Victims and survivors of domestic abuse and sexual violence can access support whether they report to the police or not and no matter how long ago the incident took place. Further information about support available can be found at This Is Not An Excuse.
Report it
Domestic abuse can be abusive physical, emotional, psychological, financial or sexual behaviour between adults in a relationship or between family members.
If you or someone you know is at risk of domestic abuse or sexual violence, please speak to someone:
Support for victims and survivors
Help is available whether you report to the police or not, and no matter how long ago the crime took place. Find out more about local support services.