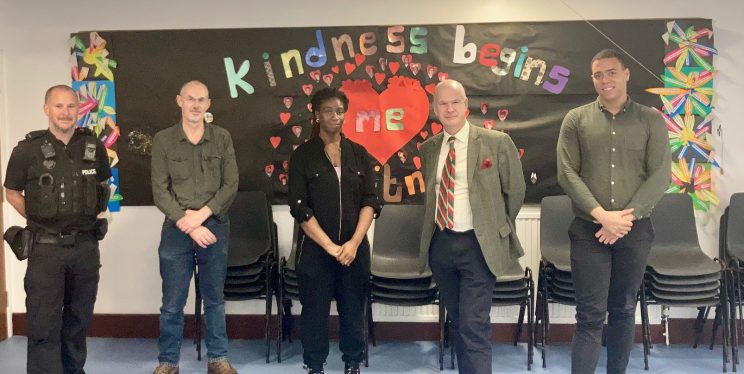 Last Friday, PCC Mark Shelford travelled across central Bristol to meet with local charities supporting victims of rape and sexual abuse, homelessness and human trafficking.
The day started with a visit to Safelink, a charity that provide independent support for victims of rape and sexual abuse across Avon and Somerset. During the meeting, Mark heard about the important work of the Independent Sexual Violence Advisors (ISVA) service and a testimonial of the service from a survivor of domestic abuse.
The PCC then met with Inhope to discuss the charity's Spring of Hope service, which offers sheltered accommodation for vulnerable women fleeing from domestic abuse, addiction, homelessness and prostitution. The meeting presented an opportunity to learn more about the complex needs of vulnerable women and explore possible solutions to increased demand.
"I have thoroughly enjoyed meeting with local charities, across Bristol, who are tackling a broad range of complex crimes. I want to personally thank them all for the amazing work that they do supporting victims and vulnerable people.

"Today has provided me with a great deal of insight in the challenges that residents of central Bristol face and what more can be done to tackle the policing issues in these areas. Thank you to everybody who took the time to meet with me."

PCC Mark Shelford
In the afternoon, Mark sat down with Unseen to hear about the vital work the charity does to support survivors of modern slavery and human trafficking. The meeting covered a range of issues, including incidents of modern slavery in rural areas of Avon and Somerset, as well as the need for closer partnership working by key organisations.
The PCC then met with Newtown Network, an organisation that provides services to the Newtown community. This was a productive and interesting discussion around the needs of the Newtown community, policing issues and what more can be done to support vulnerable residents in the local area.
To finish, Mark attended a meeting at City Hall with Councillor Tony Dyer to learn more about the Southville ward and discuss local policing issues.