PCC supports prisoner construction project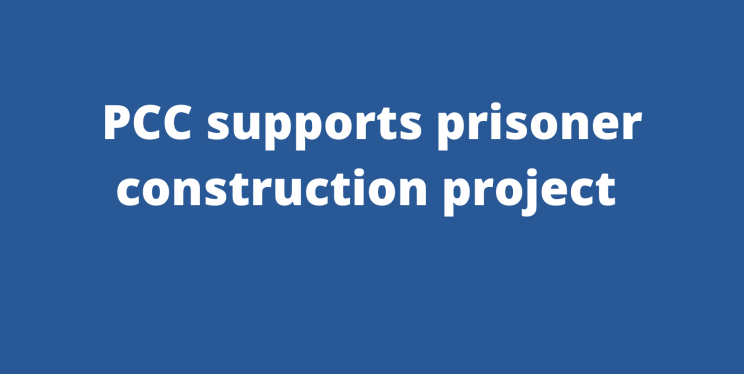 Before Christmas, PCC Mark Shelford visited a ground-breaking construction project in Gloucester that aims to reduce reoffending and give offenders another chance.
Located in Hardwicke in Gloucester, the scheme sees prisoners released on temporary licence from Leyhill Prison help build affordable, eco-friendly housing pods that will be situated on various meanwhile use sites across the South West. The modular housing will provide accommodation for prison leavers and refugees, as well as act as refuges for domestic abuse victims.
The project, run by MMC Homebuilding Limited, has a number of aims including providing prisoners with transferable skills that will aid them in finding jobs when they leave prison and helping alleviate the national lack of affordable housing.
Finding suitable accommodation for offenders is a key factor in terms of reducing and preventing further offending. Sourcing and supporting individuals to live in suitable and settled accommodation on release from prison can reduce reoffending by up to 50%.
The housing pods have many eco-friendly features including a heat pump that is solar powered, walls plastered with recycled cork and insulation made from recycled milk cartons. The accommodation also includes underfloor heating, fitted kitchen and shower room, and all appliances are provided.
The project hopes to involve female prisoners, in particular in the making of slate roof tiles and slate patio slabs made from slate waste.
"At the heart of this fantastic project is the aim to reduce reoffending by giving prisoners the chance to learn new and transferable skills that can be utilised when they leave prison.

"Offenders are being given the opportunity to change their lives and, in turn, are contributing to reducing reoffending goals that benefit the wider community and addresses other key societal, economic and cultural issues including affordable housing, homelessness and climate change.

"This is an innovative initiative and I know the South West Reducing Reoffending Partnership is appealing for more sites and funding so similar projects can take place across the region. If you or your organisation want to get involved, please get in touch."

PCC Mark Shelford
Angus Fraser, Director of MMC Housebuilding Limited, added: "In addition to working with prisoners on temporary license in our premises, we are looking to set up manufacturing in three prisons. The living pods have almost unlimited applications including prisoner settled accommodation, NHS key worker housing and school classrooms. Our aim is to create a project template in the South West and then expand nationally to other areas to boost employment and provide housing solutions."
This project sits alongside the South West Reducing Reoffending Partnership's (SWRRP) Prisoners Building Homes (PBH) programme of work, which PCC Mark Shelford leads on behalf of the board in his role as Vice Chair for the SWRRP. The local Avon and Somerset reducing reoffending board, Resolve, is also supportive of the initiative and will be considering how best local areas can support this project.
This programme of work supports organisations to deliver affordable housing on underutilised sites whilst upskilling prisoners on modern methods of construction. The PBH programme is currently working with the public sector to identify sites across the South West. A Project Manager and Specialist Consultation Team have been appointed to develop a delivery and funding framework to advance the sites through planning to delivery.