PCC visits Bridgwater and Taunton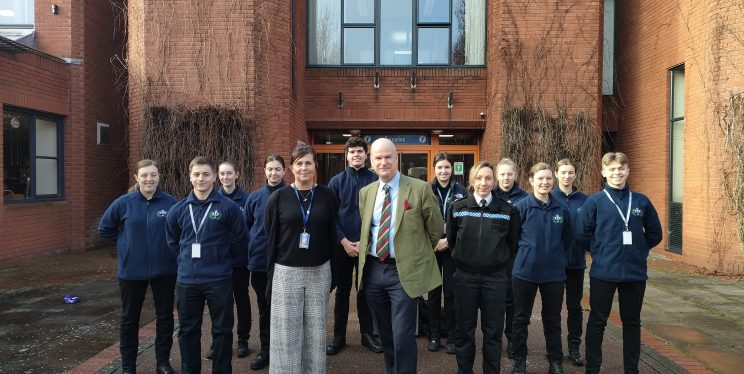 During his second engagement day of 2022, PCC Mark Shelford visited partners in Bridgwater and Taunton.
The PCC started the day by visiting Bridgwater and Taunton College and met with students who take part in the 999 Academy. The students asked the PCC questions about his role and his career path, as well as discussing the criminal justice system, prisons and why certain policing topics are part of their study programme.
"I was hugely grateful to the PCC to take time to visit the students and I look forward to future visits as I know many students across Bridgwater and Taunton College would benefit from meeting him."

Ruth Burrows, Course Leader of the Uniformed Protective Service Courses and Manager of the 999 Academy
PCC Mark Shelford then visited Nelson Trust, a charity that supports women in the community who are in contact with the criminal justice system as well as providing residential addiction treatment to men and women. The PCC met with a number of staff and discussed the great work they do and the positive outcomes they achieve by supporting local people.
Finally, the PCC met with Taunton Deane MP Rebecca Pow to talk about constituents' policing and crime concerns.
"It was brilliant to meet with the enthusiastic students at Bridgwater and Taunton College and, in particular, I was very impressed with their insightful questions about my role, the criminal justice system and prisons.

"Moving on, it was a real privilege to find out more about the work of Nelson Trust and the various initiatives they have in place to prevent and reduce reoffending amongst women. Such partners are essential in diverting women away from the cycle of crime, which we know creates further long-term issues and, instead, help them tackle the root cause of their offending. I look forward to supporting their work in the future."

PCC Mark Shelford