PCC and team secure over £100k additional funding for sexual violence and domestic abuse services in Avon and Somerset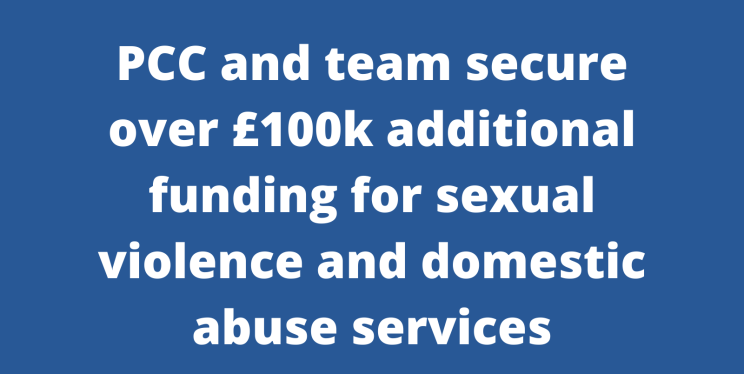 The Office of the Police and Crime Commissioner (OPCC) has successfully secured an additional £30,797 from the Ministry of Justice's (MoJ) Critical Support Fund and £70,000 from NHSEI Health and Justice South West to support victims of sexual violence across Avon and Somerset.
The MoJ funding was awarded to support services who have faced increased demand and/or disruption due to the pandemic. Services included:
Across these services, funding will be used to support counselling, helplines and generally increase capacity to support victims and survivors.
During the same period, the OPCC supported Kinergy (£20,000), Southmead Project (£20,000) and Womankind (£30,000) to secure funding from NHSEI Health and Justice South West. This extra funding will allow Kinergy and the Southmead Project to offer additional therapeutic sessions, and for Womankind to provide a befriending service.
The funding announcement comes during Sexual Abuse and Sexual Violence Awareness Week, which aims to raise awareness of sexual violence support services for victims and survivors.
"A massive well done to the OPCC Commissioning and Partnership team for another round of successful bids to both the MoJ and NHSEI Health and Justice South West. As PCC, my team and I will continue to work with other commissioners to ensure there are effective and efficient services across Avon and Somerset that can be accessed by everyone, which supports victims and survivors to cope and recover.

"Preventing and fighting crime is a priority in my recently published Police and Crime Plan and this includes tackling male violence against women and girls, specifically domestic abuse, sexual offences, stalking and harassment. There are over 4,260 recorded sexual offences in Avon and Somerset each year, of which 1,650 are rapes. This is too many offences that creates too many victims; as well as ensuring there are good provisions for victims and survivors we must address the attitudes and behaviour of the perpetrator and ensure police investigations are evidence-led and focus on the actions of the offender rather than the victim.

"Avon and Somerset Police's Project Bluestone is opening the doors of policing to academic scrutiny of rape and serious sexual offences (RASSO) like never before, bringing new ways of working and new perspectives that can bring with it a new era of policing to tackle these crimes.

"The work of our local victim services must be complemented by the improvements to policing under Project Bluestone to ensure victims and survivors of these awful crimes are helped on their journey to recovery."

PCC Mark Shelford
Support for victims and survivors
Help is available whether you report to the police or not, and no matter how long ago the crime took place. Find out more about local support services: https://www.survivorpathway.org.uk/