PCC supports NHS SARC campaign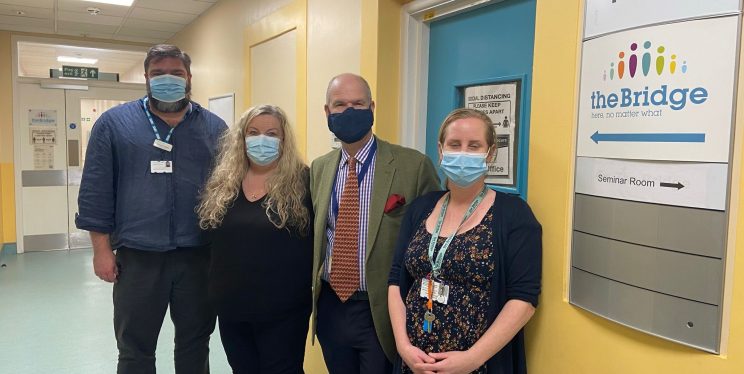 PCC Mark Shelford is supporting the NHS's powerful new campaign highlighting the specialist support of Sexual Assault Referral Centres (SARCs) in England.
As part of the major campaign, victims and survivors of sexual and domestic abuse are being encouraged to come forward for NHS help and care. The campaign is backed by a £20m boost nationally to specialist funding over the next three years including enhanced support services for victims and survivors of sexual assault and abuse who have complex, trauma-related mental health needs.
The new national campaign is launching on the first day of Sexual Abuse and Sexual Violence Awareness Week and comes as a survey of more than 4,000 people across England, conducted by Censuswide, found over half (56%) did not seek help from organisations or service after the incident. In addition, almost half of respondents (46%) cite fear of being believed as the biggest barrier to accessing help.
SARCs offer confidential specialist, practical, medical and emotional support to anyone who has been raped, sexually assaulted or abused – regardless of when the incident happened.
The Bridge is Avon and Somerset's SARC and it offers medical care, emotional and psychological support and practical help to:
Adults and children living in Bristol, South Gloucestershire, North Somerset, Bath & North East Somerset or Somerset; and
As a paediatric Centre of Excellence supporting children living in Gloucestershire, Wiltshire or Swindon
The Bridge is co-commissioned by Avon and Somerset Office of the Police and Crime Commissioner (OPCC) along with NHS England and Improvement. The Bridge is part of the University Hospitals Bristol and Weston NHS Foundation Trust.
PCC Mark Shelford recently met with the specialist team to find out more about the vital work they do.
"I welcome the NHS's additional funding in local SARC provision order to provide enhanced support to those who need it most. The SARCs offer an indispensable safe space for victims and survivors of sexual abuse and sexual violence, providing confidential emotional, medical or practical support.

"As discussed in my recently published Police and Crime Plan, when a victim comes forward to Avon and Somerset Police and partners, we must listen to their voice, story and lived experience to ensure the right outcome is provided for them. As well as prioritise support for the victim, I will continue to work with the force and local providers to address the behaviour and attitude of offenders who commit such crimes; there needs to be sufficient support to challenge and change behaviour of offenders through effective management and perpetrator support programmes.

"After meeting with the team at The Bridge a few weeks ago, I know that the compassionate and caring staff do their utmost to support victims and survivors who going through the worst moments of their life.

"Sexual assault and abuse can happen to anyone; it might be a one-off event or happen repeatedly. SARCs are there for everyone, regardless of when the incident happened and or whether you choose to involve the police or not, support is available.

"Sexual violence is a crime, no matter who commits it or where it happens. Victims and survivors are not at fault and, if you have been raped, sexually assaulted or abused and do not know what to turn to, turn to your local SARC."

PCC Mark Shelford
The NHS campaign, which will raise awareness of the centres and the support available, will also release a powerful short film that addresses common questions and concerns many people face after experiencing sexual assault, abuse or rape, including not knowing who or where to turn to.
Further information on SARCs

People can contact a SARC to make an appointment or ask someone else to do this on their behalf
SARCs offer a range of services including crisis care, medical examinations, emergency contraception and testing for sexually transmitted infections. They can also arrange access to an Independent Sexual Assault Advisor (ISVA), as well as referrals to mental health support and voluntary sector sexual violence support services.
Sexual assault referral centres also have forensic medical examination facilities, should you wish to report the assault to the police or are considering doing this, once you've had time to consider your options
If you refer yourself to a SARC and are considering reporting the assault to the police, the centre can arrange for you to have an informal talk with a specially trained police officer, who can explain what is involved and next steps
Specially trained advisors are also available to you through the criminal justice system if you decide to report the assault to the police. This includes supporting you through the trial, should the case go to court
Support for victims and survivors
Help is available whether you report to the police or not, and no matter how long ago the crime took place. Find out more about local support services: https://www.survivorpathway.org.uk/
Support at The Bridge is available 24/7 all year round and can be contacted:
Via phone at 0117 342 6999