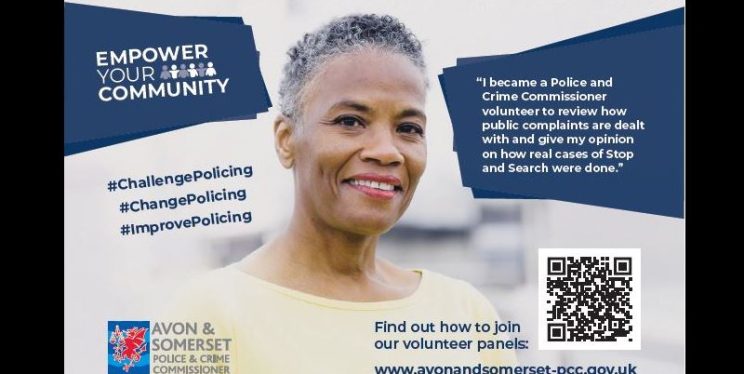 Do you want to get involved with changing the way your community is policed?
We are launching a recruitment campaign for volunteers for people who would like to have a say in the way their local police service uses powers like stop and search and Taser, handles public complaints against the police and get involved in carrying out inspections of police custody centres.
The role of the PCC is to scrutinise, review andimprove police practices. Part of this involves working with members of the public to provide an independent view as part of one of four scrutiny panels. The panels look at different aspects of police work across the Avon and Somerset area including the use of force, stop and search, how people are treated in custody and complaints made to the Police.
The campaign will run until 6 January and the PCC is keen invite more diverse applicants particularly women, people under 30 and those from Black, Asian, mixed and minoritised communities.
People can apply to a specific panel if they have a specific interest or make a general application and be considered for one the four panels:
Independent Scrutiny of Police Powers (ISOPP) – this panel meets quarterly to review police Use of Force including looking at bodycam footage and commenting on stop and search
Independent Scrutiny of Police Complaints (ISOPC) – this panel reviews complaints made to the police by members of the public, assessing them for efficiency, fairness, transparency and service to communities
Independent Custody Visitors (ICVs) visit police stations in pairs at times to suit them. These unannounced visits involve checking on the welfare of people detained in custody by the police. The scheme covers the custody units in Bridgwater, Keynsham and Patchway
Out of Court Disposals (OOCD) are a way for the police to deal with less serious offending. This panel includes members of the Criminal Justice System and victim support services. The panel meets quarterly to review whether decisions were proportionate, timely, victim-focused and rehabilitative.
"Working with the public is a vital part of the PCC's mission to ensure we improve policing standards for all. Our volunteers provides public accountability and transparency and different perspective to those within policing, which is extremely valuable for upholding our values of openness, partnership, compassion and courage.

"We are particularly keen to hear from people who are passionate about empowering their communities and want to see change to make sure the police serve everyone. No previous experience is necessary but we want to see a passion for change and a willingness to share opinions constructively and provide an independent perspective to the police as a panel member."

Deputy PCC Claire Hiscott
The time required to be a PCC volunteer varies with each panel but typically will involve attending quarterly meetings or arranging visits to custody centres for the ICV panel.
Please note, our application deadline has been extended to 31 January.
To apply to volunteer download an application form from: https://avonandsomerset-pcc.gov.uk/volunteering.
If anyone has questions about these volunteering positions they can email: opccvolunteering@avonandsomerset.police.uk