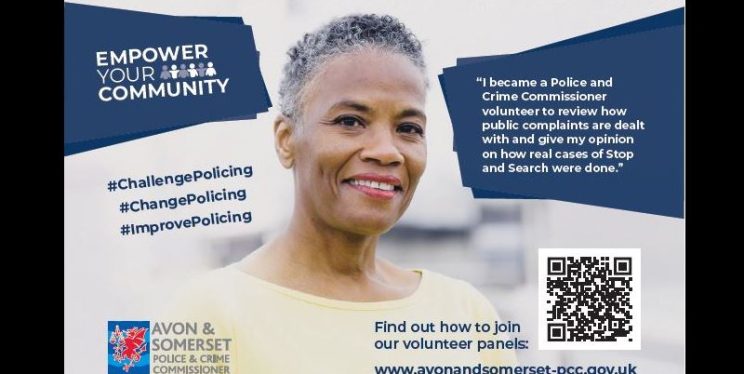 We spoke to Kim Smith, one of our Independent Scrutiny of Police Complaints Panel volunteers, about volunteering and making a difference.
"As with all the best things in life, I came to the Independent Scrutiny of Police Complaints Panel (then known as the Independent Residents Panel) by accident.
"I was actually looking to volunteer with local charities. So, when I saw the advert for panel members, my first thought was What's a Police & Crime Commissioner? Then I saw the word "complaints" and I was hooked. Who hasn't made a complaint (or wanted to) at some point? Then I thought what an interesting role, but they are not looking for people like me. However, feeling brave, I applied and was interviewed by two really friendly people. I was delighted to then be appointed!
"I've now been a member of the Independent Scrutiny of Police Complaints Panel (ISPCP) for over five years and I love it."
What do we do?
"On behalf of the Police and Crime Commissioner (PCC), we review a random sample of complaints made to Avon and Somerset Police and comment on how they were managed. We are guided by how we would want our complaints to be handled. Was there something which could've been done better? Was it resolved quickly or did it take ages? Did the final response letter make sense? Was there some good practice that should be shared across the force? Yes, we like to praise as well.
"Since Covid, we have had to change how we work with the panel meetings now take place online. We meet four times a year on a Thursday afternoon and each meeting has a theme such as complaints about discrimination or call handlers, who receive the 101 and 999 calls. Before each meeting, we are each sent a link and password for a secure website where three or four randomly selected complaint files are waiting. While this might sound like a lot, we do not have to do them all if we do not have time and we have two-three weeks to review the files and make our comments on each complaint.
"We then get a written response to our comments from the Avon and Somerset Police Professional Standards team, who deal with complaints."
What happens at meetings?
"The meeting is an opportunity to discuss some of the complaints and the Professional Standards feedback. Each meeting generates a final report that is signed by the PCC (but not changed- we are independent, after all) and published on the PCC's website. We also have a guest speaker slot, where we learn more about various aspects of policing. Recently we have had expert presentations on domestic abuse, mental health, Body Worn Video,and work of the Inclusion & Diversity Team. Not only do we learn, but we meet amazingly knowledgeable enthusiasts.
"Why give up your precious time to volunteer to do this? It's really worthwhile. This panel is valued. The PCC and the Chief Constable- both busy people- have sat in on meetings and joined in discussions. We have seen changes made as a result of our feedback, so we know our work makes a difference. Other policing areas have wanted to know about the ISPCP as it is seen as a model of transparency and public involvement. And it's really interesting work.
"What's not to like?"