346 drink and drug drive arrests made in winter operation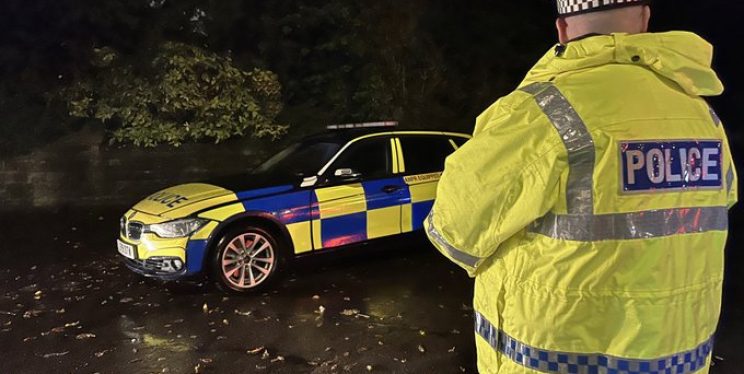 Avon and Somerset Police arrested 346 drivers for driving under the influence of drink and / or drugs during The National Police Chiefs' Council (NPCC's) Winter 2022 Drink and Drug Driving Operation. The operation ran between 21st November and 31st December.
Of these arrests, 278 were made in the month of December – a 13 per cent increase on the 246 arrests made in the equivalent period in 2021. This came despite police warnings and reminders that there is no safe way to drive under the influence of drink or drugs.
Drink driving accounted for 216 offences and drug driving for 130 offences, the latter seeing a dramatic increase on previous years' figures of 39 (2021), 45 (2020) and 31 (2019).
The operation also resulted in many other road related offences being detected and dealt with, including speeding, no insurance, seatbelts, vehicle condition, possession of drugs, disqualified drivers, and a wanted person.
The operation, known as Op Tonic, is aimed at reducing fatal and serious injury Road Traffic Collisions (RTCs) and protecting other road users.  In 2021, a third of RTCs in Avon and Somerset had a drink and/or drug factor.  They involved the deaths of 12 people, all of whom had families, friends and loved ones whose lives will be forever impacted.
Patrols were carried out by roads policing, neighbourhood officers and special constables, whose efforts were supported by the public with numerous reports of people drink or drug driving submitted by telephone and via the Avon and Somerset Police website. The public were also able to report concerns anonymously via Crimestoppers. 
"A massive thank you to Avon and Somerset Police officers for their ongoing hard work to help keep our roads safe, especially during the festive period.

"I am shocked at the number of people who, despite warnings from the police, got behind the wheel under the influence. There is no excuse to drink and drive and, by doing so, you're putting your own life and others at risk. Please do tell Avon and Somerset Police if you suspect drink/ drug driving is happening and help us keep our roads safe."

PCC Mark Shelford
"In six weeks of Op Tonic we averaged over 57 arrests per week for drink or drug driving. If you drink or take drugs and drive, there is a very good chance you will be caught, and we always prosecute.

"Driving under the influence of drink or drugs is dangerous – you are more likely to be involved in a collision and more likely to cause injury and even death.

"Drink and drug driving is not socially acceptable, and we know the public are behind us in taking effective action.  The information they have provided has helped us make some of the 346 arrests during Op Tonic and we're pleased to have taken these offenders off the road before they could cause harm.

"Now that January is here, we are not easing up on our campaign against drink or drug drivers – keeping our roads safe is our priority day in, day out throughout the year.

"We would like to thank the public for their support and ask them to continue letting us know where they suspect or know drink or drug driving is happening, because together we are keeping the roads of Avon and Somerset safer."

Inspector Rob Barker, Roads Policing lead for Avon and Somerset Police's Tactical Support Team
Drivers risk up to six months' imprisonment, an unlimited fine and a substantial driving ban if they are caught driving while above the legal limit. Anyone who causes a death while drink or drug driving faces up to 14 years' imprisonment: Drink-driving penalties – GOV.UK (www.gov.uk)
During this year's Op Tonic, drivers in the 25 to 34-year-old age group accounted for around a third (117) of arrests, followed by 35 to 44-year-olds (77 arrests) and under-25-year-olds (75 arrests). Just over 81 per cent of all those arrested were male.
A quarter of the arrests took place in Somerset West, 24 per cent in Bristol and 22 per cent in South Gloucestershire.
Officers stopped and educated more than 2,000 drivers about drink/drug driving in over 50 roadside stop checks across the six-week operation, which started earlier than usual to coincide with the World Cup. The locations of the roadside checks were intelligence led, which included collision data and information received from the public.
Report it
Information about drink/drug drivers can be reported online at  www.avonandsomerset.police.uk/report or by calling 101 (always 999 in an emergency and if someone is currently driving under the influence of drink or drugs).
Reports can also be made anonymously to Crimestoppers on 0800 555111.
Support
Independent alcohol advice, information, and tools to help people make better choices about their drinking can be found at www.drinkaware.co.uk