Deputy PCC supports Crimestopper's VAWG campaign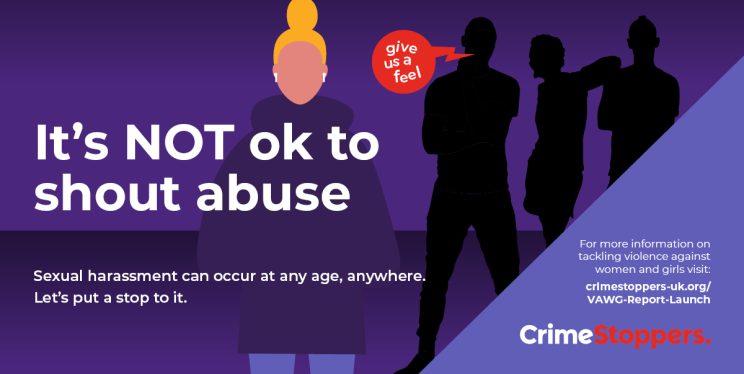 Deputy PCC Claire Hiscott is urging others to support Crimestopper's Violence Against Women and Girls national campaign, which is calling on people to challenge attitudes and increase reporting on those responsible.
Crimestoppers commissioned a University of Suffolk report that revealed one in six children face unwanted sexual harassment in public from the age of 10. The report also sheds light on general attitudes to sexual harassment and the age at which victims are targeted.
The survey had responses from 1,800 people and key findings included:
Around one in six participants (16.8%) first experience of sexual harassment occurred when they were aged 10 or younger
30.9% of participants first encountered unwanted sexual behaviour between the ages of 14-16
Almost the same percentage – 29% – first experienced unwanted approaches between 11-13 years
The survey also found that 10% of women said they had been raped while 23% saying they had been 'forced' to have sex
Less than 1% of victims said they felt flattered, attractive or desired after their most recent harassment experience
The research also found that respondents change their behaviour or activities to avoid a repeat incident with nearly 10% shunning outdoor areas where they had previously encountered unwanted sexual behaviours. More than a third (38%) have been followed and nearly a quarter (23%) have witnessed flashing/ genital exposure. Whilst the largest group of perpetrators were strangers, this was closely followed by classmates during their younger years then acquaintances and colleagues in later life. You can read the full report here.
"The findings of this Crimestopper's report are shocking; it demonstrates that those who experience sexual harassment often encounter it for the first-time during childhood or adolescence and this needs to change.

"We want victims to continue to have the confidence to come forward and report but, collectively, we all need to call out when people have inappropriate attitudes towards Violence Against Women and Girls as this such behaviour cannot continue to be normalised. Whether it's a comment, remark or action from a loved one, colleague or acquaintance we need to question, challenge and educate on what is and is not appropriate."

Deputy PCC Claire Hiscott
Report it
If you know someone who is involved in any criminal aspect of sexual harassment, you can report via:
On the phone – call the police on 101 or 999 in an emergency
If you wish to remain anonymous, contact Crimestoppers on 0800 555 111
Support for victims and survivors
Help is available whether you report to the police or not, and no matter how long ago the crime took place. Find out more about local support services.