Have a say in how your community is policed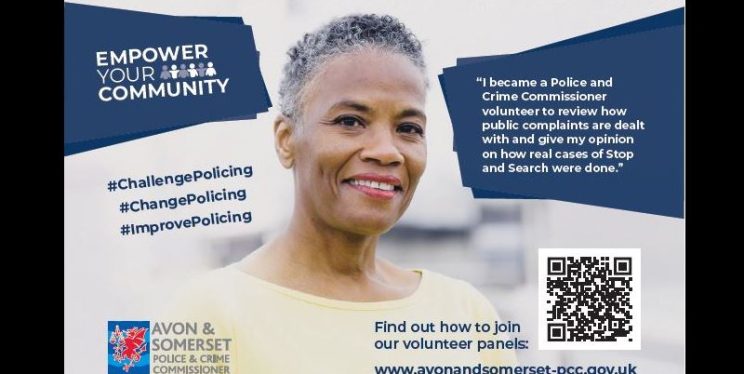 Avon and Somerset Office for the Police and Crime Commissioner (OPCC) is currently in the last few days of accepting applications for volunteers.
The available positions are for people who would like to have a say in the way their local police service uses powers like stop and search and Taser, handles public complaints against the police and get involved in carrying out inspections of police custody centres.
There are four roles available and response to date has been good. However, Police and Crime Commissioner (PCC) Mark Shelford and Deputy PCC Claire Hiscott would like to encourage more local people to apply to become Independent Custody Visitors (ICVs).
In pairs and at times to suit them, ICVs visit custody units unannounced to check on the welfare of people detained in custody by the police. The scheme covers the custody units in Bridgwater, Keynsham and Patchway.
Interested parties have until 31 January to apply. The PCC is keen to invite more diverse applicants particularly women, people under 30 and those from Black, Asian, mixed and minoritised communities.
People can apply to a certain panel if they have a specific interest or make a general application and be considered for one the four panels.
"Working with the public is a vital part of our mission in ensuring we improve policing standards for all. Our volunteers provide public accountability, transparency and different perspective to those within policing, which is extremely valuable for upholding our values of openness, partnership, compassion and courage.

"We are particularly keen to hear from people who are passionate about empowering their communities and want to see change to make sure the police serve everyone. No previous experience is necessary, but we want to see a passion for change and a willingness to share opinions constructively and provide an independent perspective to the police as a panel member."

Deputy PCC Claire Hiscott
The time required to be a PCC volunteer varies with each panel but typically will involve attending quarterly meetings or arranging visits to custody centres for the ICV panel.
Find out more about the roles and how to apply here.