More than 60 people recognised for outstanding policing and bravery in award ceremonies with Avon and Somerset Police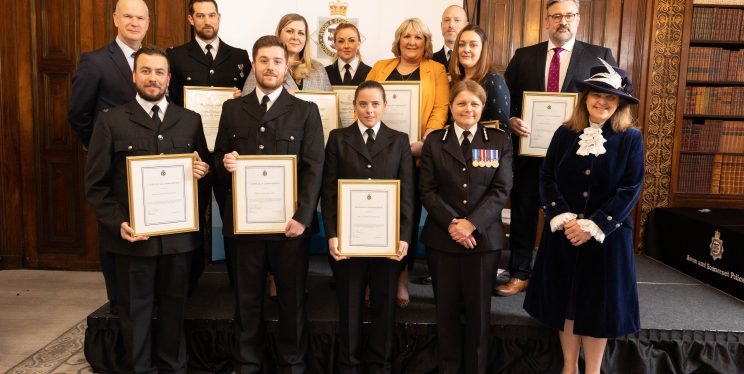 Award ceremonies held by Avon and Somerset Police this week saw 66 people recognised in a celebration of outstanding policing, good work and making a difference to our communities.
Those awarded included police officers, police staff, members of the public and a St John's Ambulance First Responder.
From lifesaving acts of bravery, quick-thinking in dangerous situations, tenacious investigations and relentless desire to protect our communities, there were some true examples of outstanding policing.
The Force Awards which took place on Tuesday 24 January saw 31 people receive either a Royal Humane Society Award, Chief Constable Commendation or Crown Court Commendation.
Amongst those recognised at the force awards were the officers who attended the murder of a couple by their neighbour, Collin Reeves, on the evening of Sunday 21 November 2021, in Norton Fitzwarren.
Police Constable Sylwia Bleach, Police Constable Claire Coles, Police Sergeant Nicholas Cooke and Police Constable Robert Dibble were awarded Royal Humane Society Awards for acts of bravery in attempting to save human life.
Police Constable Billy Collin, Police Constable Naomi Binding, Detective Sergeant Rachel Walls, Detective Constable Tony Davis, Police Constable Brett Freeman and Police Constable Charlette Faulkner were all awarded a Chief Constable Commendation in recognition of outstanding courage and policing.
After receiving a 999 call from a male stating he had stabbed his neighbours, officers attended the address, followed closely by authorised firearms officers. Upon entering the property, they located a man and a woman with multiple serious injuries, and immediately began first aid and chest compressions in an effort to save the pair's lives.
Whilst maintaining the scene outside the property, two officers were approached by the suspect and his father, who was displaying very aggressive behaviour. They acted swiftly in arresting the suspect and securing the scene.
Detective Sergeant Rachel Walls arrived on scene and showed great leadership, taking control and assisting officers to safeguard and remove two children from the property without them witnessing the scene.
Officers carried out local enquiries and worked through the night to capture pivotal witness accounts, which were instrumental in the investigation that followed. The incident, whilst having a significant impact on the family and the community, also had a huge psychological impact on the officers involved, who displayed extreme courage in the face of such a horrifying situation.
Further outstanding acts of bravery and policing were shared throughout the awards, including recovering a passenger and unconscious driver from a car that had crashed into a body of water after driving under the influence, intervening and saving the life of a male who had made a 999 call stating he was going to end his life whilst driving on the motorway, and demonstrating rigorous dedication in the face of some difficult challenges.
"I feel beyond privileged to be able to attend such award ceremonies and a huge well done to those who have been recognised their dedication and bravery.

"Day in and day out, officers, staff and volunteers show tremendous commitment and courage and it is important that we recognise and celebrate their work. Thank you from myself, my team, and your communities."

PCC Mark Shelford
"I am immensely proud of all of those who have been recognised for their incredible commitment to policing and protecting our communities. The stories shared show outstanding innovation, openness to learn, and courage to confront some incredibly difficult situations and uncomfortable truths. Our officers and staff see some of the worst of society, and I am so proud of everything they cope with day in day out, let alone these extraordinary examples of when they've gone above and beyond their duty."

Chief Constable Sarah Crew
Thirty-five further Avon and Somerset officers and staff were awarded at an awards ceremony on 25th January celebrating the work of those involved in Project Bluestone, a transformative approach to the way we investigate rape and sexual offences. Bluestone was introduced by Avon and Somerset Police in June 2021 and is now being used to shape a new national operating model, Operation Soteria Bluestone, which will be rolled out to all police forces later this year.
Chief Constable Sarah Crew added: "I'm also delighted that we have been able to recognise the dedication and hard work of all those involved in Bluestone, including our partners at The Bridge, SafeLink and the CPS. Their commitment to making real and meaningful change is inspiring. Their work is shaping policing nationally and they should all be incredibly proud of the difference they will make to victims and their families."