Guest blog: International Women's Day 2023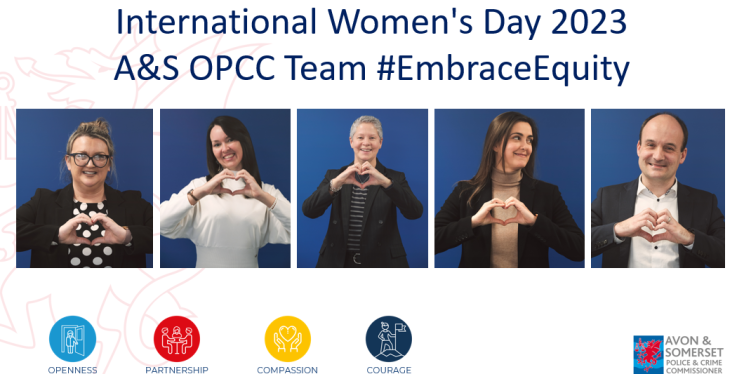 We spoke to the Office of the Police and Crime Commissioner (OPCC) team to find out what women inspire them every day.
Malala Yousafzai is the youngest Nobel Prize Laureate the world has ever seen. At the age of 15, This incredible women overcame an assassination attempt by the Taliban in occupied Pakistan to campaign for women's and children's rights to an education.
"I tell my story no because it is unique, but because it is the story of many girls."
Baroness Jean Corston endured poverty and tragedy before becoming an MP and now a peer. Ten years after her landmark report into vulnerable women in the criminal justice system, she is still fighting to reform women's prisons.
"I always say to a woman who might be in a dark place – if I can do it, then so can you. I'm ordinary. I just don't take no for an answer."
Jacinda Arden was New Zealand's youngest Prime Minister in over 150 ears and is the world's second female leader to give birth while in office. Jacinda served for six years, which include the pandemic years. She displayed determined, courage and compassion.
Joanna Lumley is a television star but it is her work as a human rights activist, especially during the Gurkha Justice Campaign, that has earned her a place on this list. She has the status of 'Daughter of Nepal.'
"I've looked forward to being older because you will have that many more miles covered. We mustn't be led into thinking getting old is bad. Growing old is good."
Mary Seacole is known as a heroine due to her work treating soldiers during the Crimean War. She was a woman of mixed race who overcame double prejudice. A statue sits outside St Thomas' Hospital in London and is believed to be the first in the UK to honour a black woman.
Jade Hameister is a 16-year old skier from Australia and is the youngest person in history to complete the Polar Hat Trick, traversing the North Pole, South Pole and Greenland ice sheet. She reached the Amundsen Coast – where Antarctica's sub-ice land mass meets the Ross Ice Shelf – via a new route through the Transantarctic Mountain Range after a massive 37-day journey.
"It was a really hard day with extreme weather conditions and I realised why only 20 women have made this journey before."
Claudette Colvin is an American pioneer of the 1950s Civil Rights Movement and a retired nurse aide. In 1955, she was arrested at the age of 15, for refusing to give up her seat to a white woman on a crowded, segregated bus. This actually occurred nine months before the more widely known incident involving Rosa Parks.
"Whenever people ask me 'why didn't you get up when the bus driver asked you?' I say it felt as though Harriet Tubman's hands were pushing me down on one shoulder and Sojourner Truth's hands were pushing me down on the other shoulder. I felt inspired by these women because my teacher taught us about them in so much detail."