PCC latest engagement day in Bristol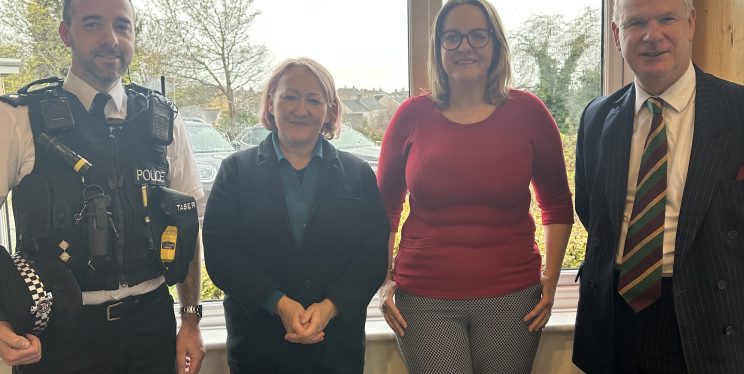 PCC Mark Shelford with Kerrry McCarthy MP, Cllr Nicola Beech and Inspector Stuart King
Last Friday (31 March), PCC Mark Shelford visited Bristol to support the regional drugs intensification week and meet with a local MP.
At the start of the day, the PCC met with Crimestoppers in Hartcliffe to discuss the latest southwest regional drugs intensification week. As part of the week of action, the Crimestoppers' 'No Place for Drugs' ad-van was visiting numerous locations across the southwest to highlight how local people can anonymously report drug crime.
PCC Mark Shelford then met with Kerry McCarthy MP and Cllr Nicola Beech at Meg Thatchers Gardens in St George to listen to their anti-social behaviour concerns.
The PCC signposted to the Streetsafe tool that enables the public to anonymously pinpoint on a map the areas where they felt unsafe due to anti-social behaviour and environment issues including lack of street lighting, abandoned buildings and vandalism.
The information provided is considered alongside an extensive evidence based already gathered by police forces and used to inform community safety activity of police and partner agencies.
The PCC also signposted to Avon and Somerset Police's Neighbourhood Policing Team page so local councillors could get in contact with the local policing team.
Finally, the PCC took part in an interview for BBC Politics West and was asked questions relating to fly-tipping and knife crime.
PCC Mark Shelford discussed the joint letter sent from southwest PCCs to the Department for Environment, Food and Rural Affairs (DEFRA) asking for tougher sanctions on fly-tipping. The suggestions made by the PCCs were taken into consideration and included in the recent Government's Anti-Social Behaviour Action Plan.
When asked about knife crime, the PCC discussed the Violence Reduction Units (VRUs), a multi-agency and public health approach to tackling serious violence. The VRUs focus on understanding the causes of violence and the reasons why people get drawn into a life of crime.
You can watch the PCC's interview here: BBC iPlayer – Politics West – 02/04/2023
"Thank you to our partners who came out in the rain to meet with me last Friday.

"As PCC, it's important for me to meet with local MPs and councillors to discuss the police and crime concerns that local people have raised. By listening to their policing concerns, I can put them in contact with the local policing team to then problem-solve and help make our communities safe.

PCC Mark Shelford