Guest blog: I thought you just did diving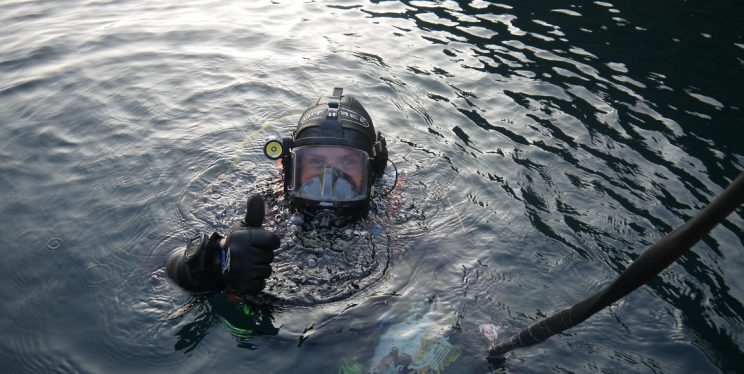 We spoke to Sergeant Nick Evans from the Underwater Search Unit about the team's role.
"'I thought you just did diving' is the phrase I tend to hear most when I tell people what we do as the Underwater Search Unit for Avon and Somerset Police. So, I thought I would spend a few minutes to give you a flavour of a few of the things that we have been involved with over the past few weeks.
"We are one of seven teams that come with a range of specialist skills on the Operations Support unit; we pretty much all have the same skill set apart from some who are rope access trained and then my team who have underwater search as an additional skill.
"Over the past six weeks, we've tackled a huge variety of different jobs including: helping at one of the biggest music festivals in the world, Glastonbury festival, supporting our colleagues across the country by recovering a vehicle from the River Thames, ensuring local people are safe at local events like St Pauls Carnival and assisting the public order team at the recent Extinction Rebellion protests in Bristol.
"As well as taking on these rather exciting events, we are also faced with many devastating incidents such as recovering unsuspicious bodies that have been in situ for several weeks or searching for missing persons in the early hours of the morning.
"This is just a snapshot over a six week period so, as you can see, no one day is the same. It also means you have to be pretty flexible with changing shifts and I'm lucky to have an understanding family at home, which is important as sometimes you have to drop what you're doing and get yourself to work at the drop of a hat.
"I am also one of several people who are Police Search Advisors. We are trained to assist in missing person searches, offering advice and guidance on possible search areas. We are on call periodically and can regularly get a call at 3am asking for guidance or a search strategy. Alongside this, we are also trained in Counter Terrorism and Crime Scene Searching – the latter forming a lot of our work as well.
"For obvious reasons, a lot of the work we do we are unable to discuss or highlight outside of the police force and that's why it was an absolute honour to win the Specialist Operations Award at the recent Be Proud Awards. The award was totally unexpected but was a really nice pat on the back and it was great to be recognised for the work we and the Operations Support Teams do across Avon and Somerset.
"Finally as I sign off, I want to leave you with one lasting thought: as the nights start to get colder and darker, no matter who you are or how confident you are around water, make sure you know your surroundings, capabilities and respect the water.
"Read more about our recent campaign #LeaveNoManBehind where we explain why we don't want to meet your friends on one of our shifts. RNLI (Royal National Lifeboat Institution) ran an interesting campaign, which can be found here.
"I hope this has given you a little insight into the work we do, but most of all, take care."