Guest blog: Straight from the horse's mouth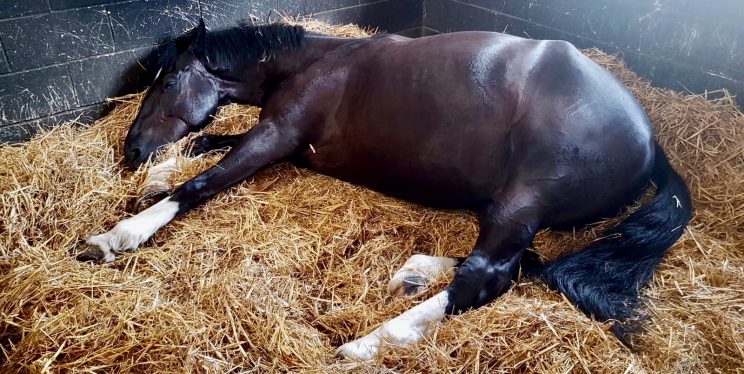 We spoke to our latest equine recruit to find out how he joined the Police Mounted Section.
"Hi, I'm Hugo. I'm seven years old. I am tall (17 hands apparently) and have a shiny black coat. I grew up on a quiet family farm in Yorkshire and, because of my quiet and placid nature, I was chosen for a trial with the Avon and Somerset Police Mounted Section in May 2018.
"I flew through all my assessments. For example, I had to keep calm while walking in heavy traffic, not react to loud noises and be brave when faced with unusual things like flags and banners. I love meeting all the friendly people who come to see me and say hello every time I go out on patrol.
"Not long after I started, I got to meet Her Majesty the Queen. She was very generous. Not only did she give me some Polos (my favourite), she also gave me my official police name – Police Horse Windsor.
"Versatility is key to being a good police horse. One minute I can be doing a school or community visit or helping to search for missing people and the next I could be chasing after suspects while on patrol. I can be asked to patrol anywhere in the Avon and Somerset area. We use targeted patrols to detect or deter criminal behaviour like drug dealing, burglary and anti- social behaviour. Recently I helped to seize two cars that were being driven illegally and pulling a stolen caravan. We arrested a man and I hope the expensive caravan was returned to its rightful owner.
"I've been to Glastonbury Festival where I was allowed to walk around with flowers in my mane.  There were thousands of really friendly people there and the music was very loud.
"I sometimes have to stay up late and patrol at night as well. I can often find myself in the centre of Bristol in the early hours of Sunday looking after people who go out to enjoy themselves.
"I'm not really a football fan but I get to go to lots of matches, not to see the game but to make sure the fans stay safe. One of my first games was Bristol Rovers v Oxford City as we were aware there had been some fighting the last time the teams played each other. On this occasion, together with my new police friends, we walked around talking to lots of supporters and all was well. I have been trained to deal with incidents of public disorder where we have to put on extra protection as a precaution like visors and leg protectors.
"I really enjoyed the Headquarters Open Day where thousands of people visited us to see how we all do our different jobs in the police. The police horses took part in demonstrations and displays to show how we are trained and how we can ride together to music. I enjoyed riding with the other horses as a team and showing how we are trained to deal with things like fire and gun shots.
"Horses are very useful when the police have to look for people who have gone missing and need our help. I have been on quite a few searches recently. As I am so tall I can see over hedges and walls plus I can get into some places much easier than officers in foot or in vehicles.
"Being a Police Horse is mostly about helping and providing reassurance to all members of the community. I hope that people enjoy meeting us and feel safer when they see us about. I'm really happy here with my new life in the Police. I'm well looked after and I always look smart. Every day is different and the staff aren't bad either."