Deputy PCC takes part in ride along with South Bristol policing team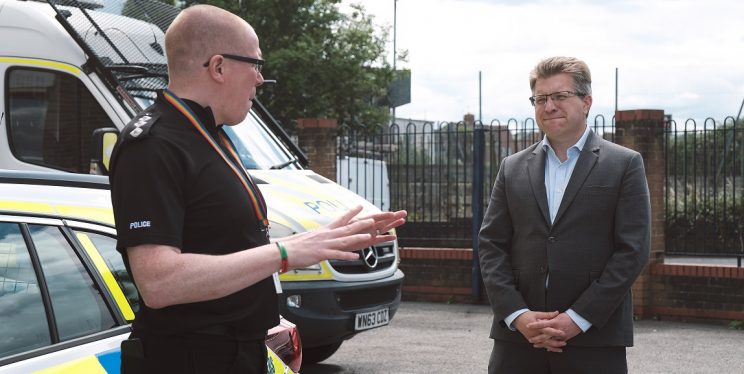 Deputy PCC John Smith joined the South Bristol policing team last week for a ride along to find out how officers are working alongside local people.
On Friday (10 July), the Deputy PCC attended the teams briefing before heading out on the beat in the local area.
Joined by Bristol Deputy Mayor Asher Craig, the Deputy PCC and the team visited Bedminster, Filwood, Hartcliffe and Knowle West to find out how officers are working hard to ensure safety in the community.
Ahead of a Facebook Live, local people shared their concerns about anti-social behaviour and drug misuse in the area. South Bristol Area Commander Olly Cosgrove reassured local voices that the policing team are working hard with residents to address these ongoing issues in the community.
During the visit, the Deputy PCC met with Heather Pickford from Inns Court Residents Group, to find out more about the work they are doing to support local people during these challenging times.
Finally, the Deputy PCC spent some time with the South Bristol response team. The team discussed the increase in policing demand during the first few weeks of lockdown when regulations were most stringent. By using new demand management arrangements, the team have helped to manage their additional workload to ensure local people are kept safe.
"It's great to see how the policing team are working with local people to create a safer community for everyone. I am pleased to see how the team are engaging with both residents and leaders in our communities to create positive relationships in the area.

"I will continue to visit local communities across Avon and Somerset in the coming months. I am keen to visit many areas, from rural communities in Exmoor to residents in central Bristol and everyone in-between, to ensure that even the quiet voices are heard so that we can continue our work towards creating an excellent policing service for all."

Deputy PCC John Smith