PCC visits Bristol South and East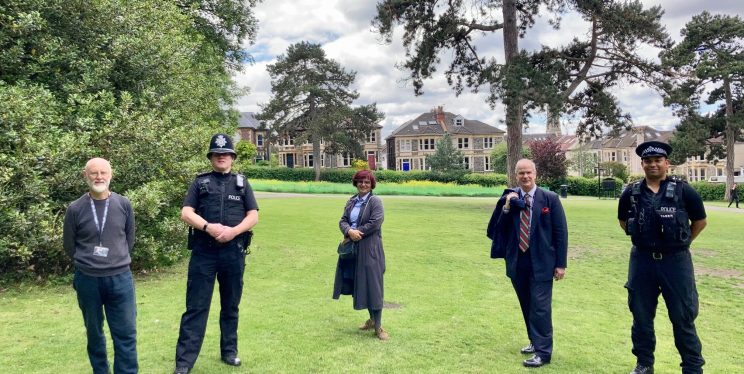 Police and Crime Commissioner (PCC) Mark Shelford went on his first community visit, of Bristol south and east, where he met with local charities, residents, neighbourhood policing teams and politicians
The PCC started his day bright and early, attending the morning briefing at Broadbury Road Police Station. He then met with local community activist and IAG member Carol Casey before visiting two charities based in the Knowle area. The first, Youth Moves, supports young people through youth work, running youth clubs and mentoring. The second, Street Space, provides a safe space via its youth hub for young people to engage in fun activities.
The PCC wrapped up his morning by dropping in on Symes Avenue shopping centre in Hartcliffe and Newquay Road shops in Knowle to hear from residents and business owners about their concerns on issues such as anti-social behaviour.
"Through my engagement visits I am able to hear first-hand of the tireless efforts of local charities and residents who champion the next generation through their vital youth work. In these challenging times, I am heartened to know that young people have safe spaces to use and mentors within their communities to help prevent them from making the wrong decisions and getting involved in criminality.

"It is key that we return to the principles of prevention of crime and the police can only do this by working with their local communities. I will continue to meet with policing teams, who are working hard to prevent crime and keep local communities safe."

PCC Mark Shelford
Earlier this week police arrested and charged a man wanted in connection with a shooting incident in Hartcliffe that took place three weeks ago.
In the afternoon, the PCC went to St Andrew's Park in Bishopston where he met with Thangham Debonnaire MP, Councillor Tim Wye and the local neighbourhood policing team to talk about what is being done to problem solve recent instances of anti-social behaviour in the area.
Mark then finished his day with a trip to Albany Green in St Paul's to meet with Councillors Amirah Cole and Jude English to discuss similar issues linked to street drinking and anti-social behaviour.
If you would like to meet the PCC and have him visit your community group or neighbourhood please fill out a general enquiry contact form on our website.