PCC meets with local farmers in South Gloucestershire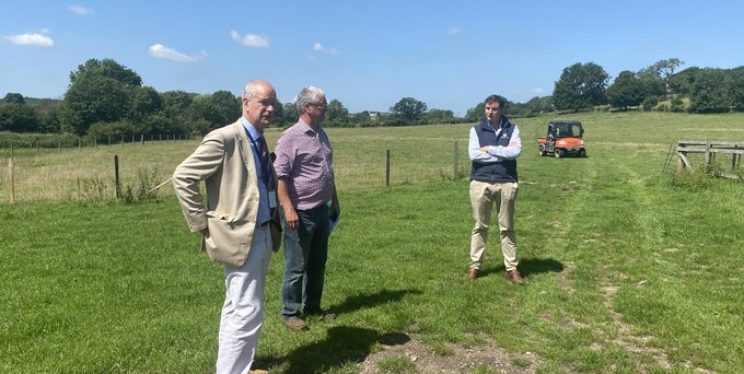 PCC Mark Shelford met with local farmers from South Gloucestershire last Friday (16th July) to listen to their policing concerns.
The PCC visited the village of Cromhall and met with four farmers and a representative from the Torthworth Estate to understand the rural issues they face including fly-tipping, speeding, trespass, poaching and hare-coursing. The PCC encouraged the local residents to consider setting up a Community Speedwatch and to complete his Police and Crime Survey, which will influence his Police and Crime Plan.
Following this meeting, PCC Mark Shelford was joined by Luke Hall MP for a walkabout of a local park in Yate to discuss recent incidents of anti-social behaviour in the area, speeding and police visibility. On-going work to problem solve anti-social behaviour in the area is taking place.
"During these engagement days, I am able to listen to local people, as well as MPs who represent residents, about the issues that cause them greatest concern. I know our rural communities in both Somerset and South Gloucestershire sometimes feel overlooked and, for this very reason, that is why I promised rural crime would be a priority of mine if I became PCC. I will be upholding this promise and am progressing work to offer more support to these communities.

"I also know that anti-social behaviour around parks is a concern for local families and this is why I am supportive of the preventative work my office and Avon and Somerset Police are involved with in order to offer alternatives to young people."

PCC Mark Shelford
"Cracking down on anti-social behaviour and speeding in our towns like Yate is absolutely essential, so that we can all feel as safe as possible in our homes and community.

"It has been great to bring local thoughts directly to our Police and Crime Commissioner, so that we can work together, alongside our fantastic local police force to tackle this issue once and for all.

"If anyone has any immediate concerns, please do not hesitate to get in touch with me at luke.hall.mp@parliament.uk"

Luke Hall MP
The PCC also visited the National Canine Training Exercise that was taking place in South Gloucestershire. The PCC watched police dogs specifically trained for explosive searches receiving further training and being assessed in order to continually improve their performance and capability.