Additional funding secured for domestic and sexual abuse services in Avon and Somerset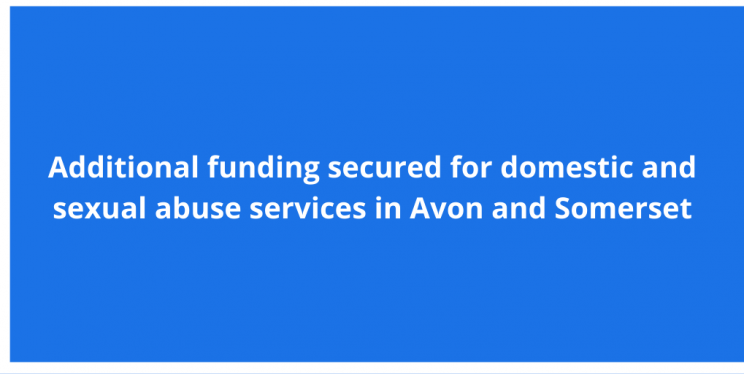 The OPCC has successfully secured £82,213 from the Ministry of Justice's (MoJ) Critical Support Fund to further support victims of domestic abuse and sexual violence across Avon and Somerset.
This funding was awarded to three local victim providers: £22,500 to Somerset and Avon Rape and Sexual Abuse Support (SARSAS), £40,189 to the Young Victim Service and £19,524 to Safelink Independent Sexual Violence Advisors (ISVA) Service.
Across these three services, funding will be used to reduce waiting times for sexual violence counselling, provide support for children who are victims of domestic abuse and enhance specialist support for survivors of sexual abuse with learning disabilities.
During the same period, the OPCC supported Trauma Breakthrough in a successful bid of £20,897 as part of the MoJ's Male Rape Support Fund. Trauma Breakthrough is hoping to use this fund to set up a group psychotherapy programme for men who are victims of rape or sexual assault – including non-recent sexual assault.
The MoJ's Critical Support Fund and Male Rape Support Fund was made available in June, as additional funding to support victims and survivors of domestic and sexual abuse, due an increase in demand in services as a result of the pandemic.
"A massive well done to the OPCC team for another successful bid to the MoJ; I know these extra funds will make a real difference to our providers who are on the frontline supporting victims and survivors of domestic abuse and sexual violence.

"This additional funding will allow these organisations to continue to provide high-quality services for some of our most vulnerable victims at a critical time. With lockdown restrictions easing, more victims and survivors are coming forward to access help and we need to ensure that victim providers can respond to this increase in demand and complexity."

PCC Mark Shelford
CEO for Safelink Sarah O'Leary said: "We are delighted to receive this additional funding as we can support more women, men and children who have survived rape or sexual assault who have a learning disability. People with learning disabilities are disproportionately likely to be victims of sexual violence. We know that with specialist services tailored to their individual needs, they can be supported to report sexual violence if they choose to, take up options such as going through the Criminal Justice Service and recover to lead fulfilling and safe lives free from abuse."
"The Young Victim service is pleased to have received some additional funding from the Critical Support Fund. This will help us to respond to the current demand and support more children affected by domestic abuse across Avon and Somerset."

Young Victim Service Head of Youth Justice, North Somerset Youth Offending and Prevention Service, and Children's Support and Safeguarding People and Communities Directorate Mike Rees
Trauma Breakthrough CEO Giles Lascelle said: "We are delighted to have the opportunity to provide this important service to male survivors of rape and sexual assault. Around one in six men and boys experience sexual assault, and most feel very alone in dealing with the short-term and long-term fallout. It takes on average 26 years for a male survivor to be able to talk about what happened to them. There are so few services able to meet these needs, so this funding will enable us to offer free specialist input to help men recover and be able to move on."
Report it
Domestic abuse can be abusive physical, emotional, psychological, financial or sexual behaviour between adults in a relationship or between family members.
If you or someone you know is at risk of domestic abuse or sexual violence, please speak to someone:
Support for victims and survivors
Help is available whether you report to the police or not, and no matter how long ago the crime took place. Find out more about local support services.