Independent Custody Visitors needed in Patchway and Bridgwater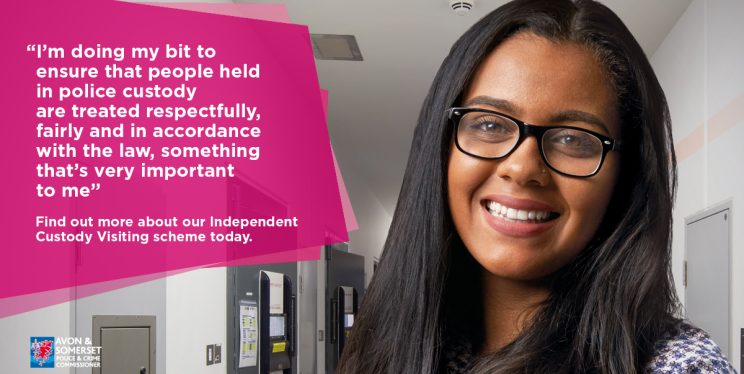 PCC Mark Shelford is calling on local people to become Independent Custody Visitor (ICV) volunteers to support his work in ensuring Avon and Somerset Police are open and accountable.
Volunteers are needed to support the team at Bridgwater and Patchway Custody Units, visiting unannounced in pairs, checking on the welfare of those in police custody and ensuring Detainees Rights and Entitlements are being observed.
If the ICvs have any concerns during the visit, these are raised with the Officer in charge of the Custody Unit. The ICVs complete an electronic report of each visit, highlighting good practice as well as any outstanding issues, and the report is automatically sent to the Office of the Police and Crime Commissioner (OPCC) to review and take any action.
"There are a number of great opportunities to get involved and volunteer as an ICV in Patchway and Bridgwater. We want to ensure the policing service is open, accountable as well as efficient and effective for the local people it serves.

"It is essential that we gain independent insight into police custody and report the findings, especially during a time where confidence in police is low. We need to be highlighting good work as well as areas for improvement so local residents have the very best police service.

"If you're interested in what takes place in custody and you want to embark on a different type of challenge, become a Custody Visitor."

PCC Mark Shelford
If you are 18 or above, live in or around the Bridgwater or Patchway area, have not had any direct involvement in the police or criminal justice system and could carry out the role of an ICV impartially with an objective point of review and with equality in mind, then we want to hear from you.
ICVs are required to make one visit a month to custody and four meetings a year. Travel expenses are paid and training is provided.
Applications close on 15 March 2022.