PCC visits Mini Police in Bristol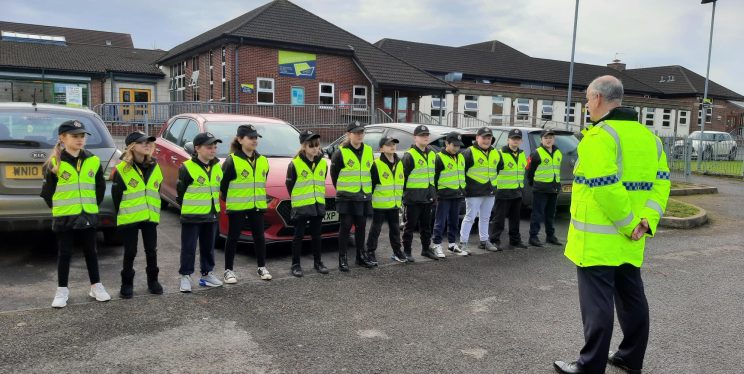 Last Thursday (10 February), PCC Mark Shelford met with the Mini Police of Oasis Hub Connaught Primary School in Bristol to find out more about the innovative police engagement programme.
Mini Police is part of the National Volunteer Police Cadets programme, aimed at children aged 8 to 11 years old. The scheme provides a fun and interactive way to introduce children to a positive experience of policing and to get them involved in the local community.
During his visit, PCC Mark Shelford took the time to answer the school children's many questions about his role and he listened to why they enjoy being part of Mini Police.
The Mini Police then took the PCC to Creswick Road in Knowle where they completed a 'Mini Police Speed Gun Operation', which saw them detecting cars going over the speed limit. The Neighbourhood Police Officers then stopped cars exceeded the speed limit and the Mini Police read out a short paragraph to the driver, reminding them that the speed limit for the road is 20mph.
Finally, the PCC ran some drills with the school children, who had the chance to show off their best 'stand to attention!'
"It was an absolute joy to meet with the Mini Police. It was brilliant to see them out in the community helping to keep residents safe by using a speed gun and reminding drivers not to speed.

"The enthusiasm of the staff and local Neighbourhood Policing Officers who joined them was fabulous and this was reflected by the Mini Police who, despite the old, merrily went about their business. Well done all!"

PCC Mark Shelford
Avon and Somerset Police are currently reviewing the Mini Police scheme to include some exciting new developments. Applications will be open in Spring 2022 for schools wanting to join the scheme in September 2022. For further information visit: https://www.avonandsomerset.police.uk/apply/mini-police/