PCC supports Home Secretary's campaign that says 'Enough' to violence against women and girls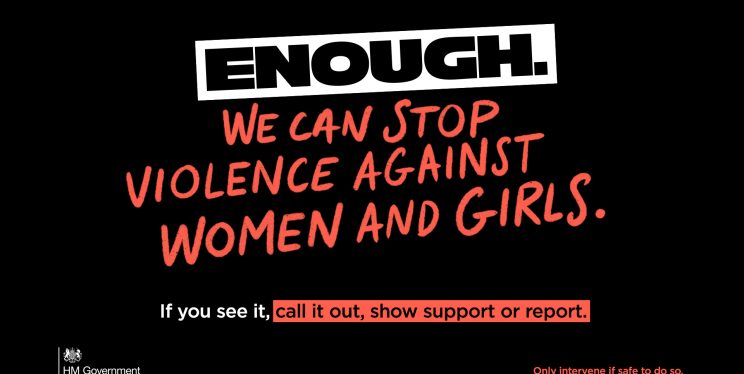 PCC Mark Shelford is supporting the Home Secretary's ambitious new, multi-year national communications campaign which says 'Enough' to violence against women and girls.
Delivering on a key commitment of the Tackling Violence Against Women and Girls (VAWG) Strategy, the first phase of the campaign focuses on perpetrators and tackling abuse.   
The campaign was informed by the unprecedented 180,000 responses to the Call for Evidence last year. This multi-year campaign will also include education for young people about healthy relationships and consent, and ensure victims can recognise abuse and seek support.    
It has been developed with an advisory group comprising over 30 voluntary sector organisations, survivors and academics who have given their expert insight. The latest findings in behavioural science have also been used, including the role of peers and wider society in influencing people's actions, and the importance of providing simple, clear options to overcome the barriers people can have to challenging abuse.   
Alongside advertising, a new website provides more information on the steps people can take to safely challenge violence against women and girls, guidance for victims of these crimes and advice for perpetrators who recognise their behaviour needs to change.   
It comes as the Home Secretary, National Police Chiefs' Council and College of Policing (HMICFRS) confirm that they are accepting and implementing all of the recommendations made by HMICFRS in their violence against women and girls' inspection. The inspection, commissioned by the Home Secretary last year, recommends:   
Appointing a full-time VAWG National Policing Lead to co-ordinate and improve the national policing response – which the Home Office supported, and DCC Maggie Blyth is now in post  
Adding VAWG to the Strategic Policing Requirement placing it on the same strategic footing as terrorism, serious organised crime and child sexual abuse  
New guidance to police forces on how to treat victims and to establish a single national survey on victim satisfaction  
Ensuring that progress is closely monitored, including violence against women and girls as a priority for the ministerially chaired crime and policing performance board
Taking action to make sure different agencies, including the police, health and education, are working together effectively to tackle violence against women and girls, including considering whether any new duties should be introduced. The Government recently made it clear in the Police, Crime, Sentencing and Courts Bill that local areas can consider domestic abuse and sexual offences for the purposes of the new serious violence duty.    
"I am extremely supportive of this new national campaign that focuses on tackling violence against women and girls. We need to put the onus back on the offender rather than the victim, and actively challenge the perpetrator's behaviour. It is no longer acceptable to place responsibility on women and girls."

PCC Mark Shelford
Home Secretary Priti Patel said: "For too long, the responsibility of keeping safe has been placed on the shoulders of women and girls. This campaign says enough, and recognises it is on all of us to demand major societal change. Everyone has a stake in this. 
"Our new campaign shows that everyone can play a role in challenging abuse and making our country a safer place. By accepting all of the recommendations in the HMICFRS report I commissioned last year, the Government and the police are doubling down to support victims and survivors and punish perpetrators."