Supporting women in Bristol and beyond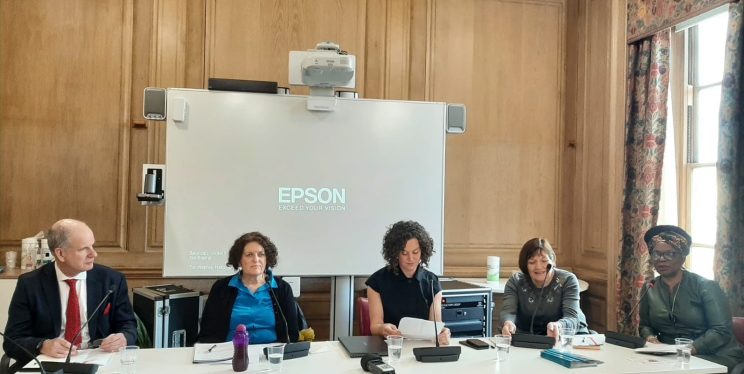 Last week, PCC Mark Shelford visited Bristol to meet with partners supporting women in the city.
On Saturday, the PCC took part in Bristol Women's Commission's International Women's Day event at Bristol City Hall.
PCC Mark Shelford joined other decision-makers including Deputy Mayor Asher Craig, Lead for Women and Women Safe City Cllr Helen Holland and Chair of Women's Commission Penny Gane on a panel, answering questions about issues that impact women including confidence in policing and women's representation in public life and leadership roles.
During his weekly engagement day, PCC Mark Shelford met with Eden House, a relatively new national facility in Bristol that provides accommodation for women returning to the community after leaving prison.
The support at Eden House aims to reduce the risk of reoffending, provides rehabilitation and, wherever possible, helps residents return and reintegrate into their local community. The resettlement home also encourages women to engage in trauma-informed therapy and structured activities that can help them build their self-esteem, reconnect with their family, and find work and a permanent home.
"I felt extremely privileged to be asked to sit on the International Women's Day panel at this annual event in Bristol. The aim of International Women's Day is to celebrate women's achievements and call out inequality and, in my opinion, this is something we should be doing every day.

"I am delighted that both Avon and Somerset Police and my office have women in senior leadership roles but I am extremely aware there is much more to be done; we can all help break the bias in communities, workplaces, schools and universities. We need to all be allies and call out gender bias, discrimination and stereotyping each time we see it.

"It was brilliant to speak to the team at Eden House to find out how they support women who have just left prison, provide them support and, in turn, reduce reoffending. Breaking the cycle of crime is complex but we do know that lack of accommodation when leaving prison is a factor in reoffending. We must work together to reduce the impact this issue – as well as a whole host of other issues ranging from domestic abuse, debt and substance abuse – to support women leaving prison."

PCC Mark Shelford
PCC Mark Shelford also met with Kerry McCarthy MP to discuss anti-social behaviour in and around the Fishponds area. The MP and PCC discussed the ongoing work that Avon and Somerset Police Neighbourhood Policing Team are undertaking to work with communities.