PCC visits South Gloucestershire during latest engagement day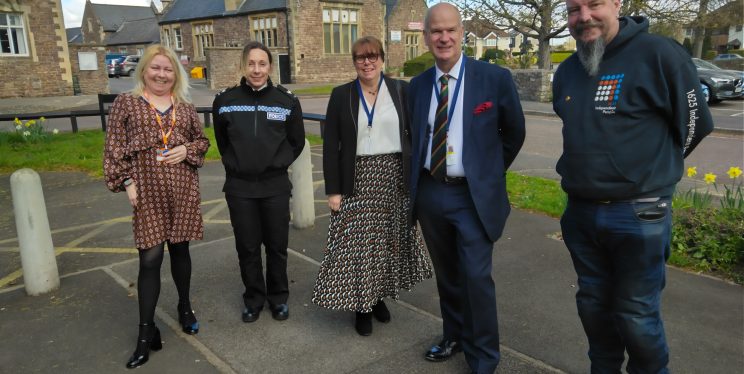 Last Friday, PCC Mark Shelford met with South Gloucestershire partners and organisations to find out how they support local people in the area.
Joined by Deputy PCC Claire Hiscott, the PCC met with 1625 Independent People at the organisation's Woodleaze accommodation, a supported housing scheme providing homes for 18 young people in Yate.
The young residents are all aged between 16 and 25, and the project helps meet a need in South Gloucestershire to provide additional support for care leavers, making up half of the residents. The other half of residents come from a range of other background including young people who are homeless or at risk of homelessness. 1625 Independent People also delivers support to the young people alongside a number of community partners.
PCC Mark Shelford then met with South Gloucestershire Council Leader Toby Savage, Councillor Becky Romaine and Avon and Somerset Police's Road Policing Unit to find out more about the roads policing work taking place on the A432 Badminton Road.
Officers demonstrated the use of handheld speed detection equipment, mobile window tint checking and mobile ANPR capability as well as discussing the work the Roads Policing Unit do to support the reduction of the fatal five offences (careless driving, drink and drug driving, not wearing a seatbelt, using a mobile phone and speeding).
Finally, the PCC took part in a joint drop-surgery with Luke Hall MP in Frampton Cotterell and met with local residents to listen to their police and crime concerns including rural crime, hunting and anti-social behaviour. The local Neighbourhood Policing Team supported this drop-in surgery.
"I had a brilliant day getting out and about in South Gloucestershire and meeting partners, local politicians and, most importantly, residents. It is vital that I understand what concerns communities have so I can speak to the right partners and organisations to ensure everyone is working together to tackle issues that are important for local people."

PCC Mark Shelford