New warning issued as holiday fraud increases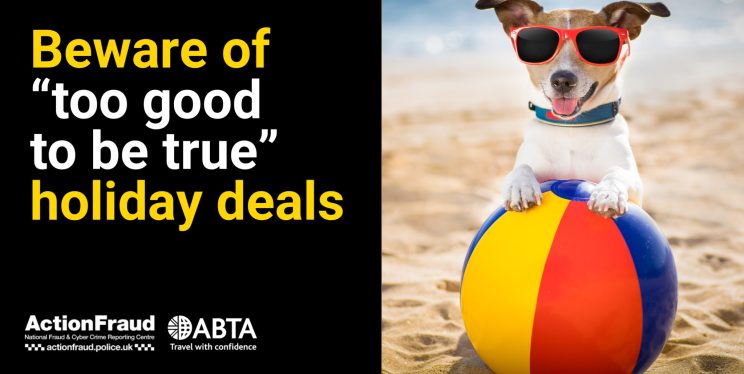 PCC Mark Shelford is urging local people to remain vigilant against holiday fraud when booking flights or accommodation online.
The PCC's warnings come after Action Fraud received 4,244 reports of holiday and travel related fraud in 2021/22, an increase of over 120% compared to the previous financial year.
Victims reported losing a total over £7,388,000, an average loss of £1,868 per victim.
Whilst many accommodation providers who make use of online booking platforms are legitimate, some criminal use these platforms to defraud victims by advertising counterfeit accommodation.
Over 7% of victims reported falling victim to suspects impersonating legitimate travel companies including clone comparison websites, airline websites and holiday accommodation websites.
Victims have searched for flight ticket online and have found a website they believe to be the company's genuine website. In other cases, victims reported responding to an approach or advertisement on social media or using what they believed to be legitimate flight comparison websites to search for flights.
In both instances, victims reported being contacted by someone purporting to be from the airline or flight comparison website to take them through the booking procedure and take payment.
The fraudster might then completely end contact after receiving payment or provider the victim with fake booking information.
Sadly, some victims have only become aware that they have been the victim of fraud when they arrive at the airport and are unable to check-in.
Tops tip to avoid falling victim to holiday fraud

Stay safe online: check the web address is legitimate and has not been altered by slight changes to a domain name – such as going from .co.uk to .org.
Do your research: don't just rely on one review – do a thorough online search to ensure the company is credible. If a company is defrauding people, there is a good chance that consumers will post details of their experience, and warnings about the company.
Look for the logo: check whether the company is an ABTA Member. Look for the ABTA logo on the company's website. If you have any doubts, you can verify membership of ABTA online on their website. If you're booking a flight as part of a package holiday and want more information about ATOL protection, or would like to check whether a company is an ATOL holder, visit the CAA website.
Pay safe: wherever possible, pay by credit card. You should avoid paying directly into a private individual's bank account.
Check the paperwork: you should study receipts, invoices and terms and conditions, and be very wary of any companies that don't provide any at all. When booking through a Holiday Club or Timeshare, get the contract thoroughly vetted by a solicitor before signing up.
Use your instincts: if a deal sounds too good to be true, it probably is.
"As we leave the pandemic behind us, more and more people will have the confidence to travel this summer. Unfortunately, criminals are already exploiting people's want to go on holiday for their own financial gain.

"I cannot stress enough how important it is to do your research before handing over any money or personal details. I know that the cost of being a victim of fraud is not just financial but also emotionally distressing.

"Trust your instincts and if a deal feels too good to be true, it probably is. If you do fall victim, always report the crime to Action Fraud."

PCC Mark Shelford
Take Five To Stop Fraud advice
Stop: Taking a moment to stop and think before parting with your money or information could keep you safe.
Challenge: Could it be fake? It's okay to reject, refuse or ignore any requests. Only criminals will try to rush or panic you.
Protect: If you think you've been a victim of fraud, contact your bank immediately and report it to Action Fraud online at police.uk or by calling 0300 123 2040.
.You can also find a full list of tips to avoid becoming a victim of fraud at ABTA.