PCC supports Raise Your Ride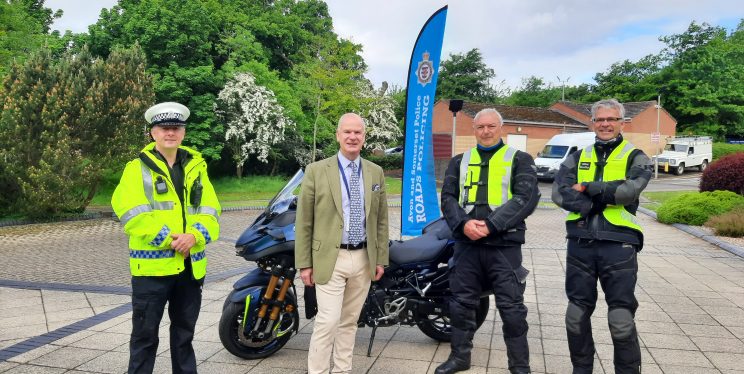 PCC Mark Shelford is encouraging motorcyclists to take part in Raise Your Ride, an advanced riding initiative that aims to reduce rider causalities.
A partnership between Avon and Somerset Police and Somerset Road Safety, attendees will be introduced to the police system of motorcycle riding including cornering, reading the road and planning and hazard avoidance.
The scheme also includes an opportunity to take part in an observed ride with either a serving or former police advanced rider who will share a wealth of experience of riding and collision investigation.
"Nationally, motorcyclists only make up approximately 1-2% of the road traffic but represent around 21-23% of the road causalities. This is why I strongly encourage motorcyclists to take part in this initiative so you are aware of advanced riding techniques to keep yourself safe.

"We all have a part to play in ensuring that our roads are safe for everyone who is using them and, from the feedback the course has received, motorcyclists who have taken part have found it incredibly useful."

PCC Mark Shelford
One motorcyclist attendee commented: "The course more than met my expectations and I would recommend to everyone looking to improve their riding skills."
Another motorcyclist added: "For me, it was very enjoyable being observed and a chance to highlight any issues. The opportunity to reset was good for me."
The next Raise Your Ride course is taking place in Taunton on 22 May, with spaces still available. Other dates include:
Yeovil – 19 June
Weston – 17 July
Bridgwater – 11 September
The one day group course costs £45 per person. Private groups and even individual riders can be accommodated on more flexible dates if needed.