PCC Visits Cheddar and North Somerset on Engagement Days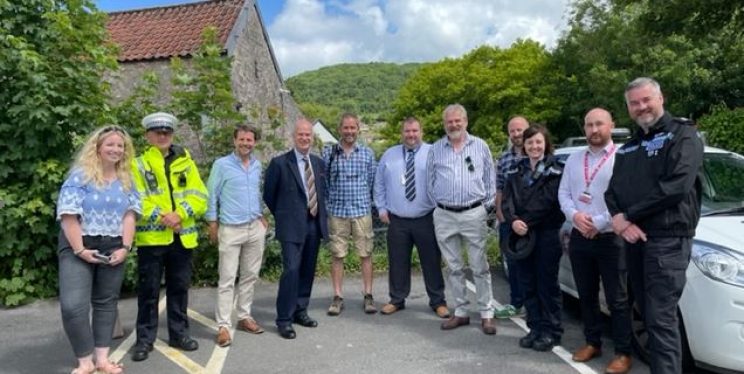 PCC meets with local MP's representative, local council and police to talk about road safety in Cheddar
PCC Mark Shelford has been out and about across Avon and Somerset during the last two weeks to listen to the concerns of our communities on policing and crime issues. 
On Friday June 10, the PCC visited Cheddar, Somerset, where he started the day with Cllr Graham Godwin-Pearson to discuss road safety, car meets and related anti-social behaviour.
After the PCC met with a representative of James Heappey, MP for Wells. Avon and Somerset Police, Somerset County Council, and Cheddar Parish Council also attended.
The police provided a briefing on road safety measures currently being put in place, followed by recommendations from the team on potential law changes that could improve said road safety.
The PCC also visited the Elim Connect Centre in Wells, where he took the opportunity to learn about the important work that the people at the centre undertake within the community. This coincided with a drop-in session where locals were able to ask the PCC about their concerns.
The community day ended with the PCC visiting Shepton Mallet Town Councillors.
"It was great to be out and about once again, this time among the Cheddar community, meeting local partners, politicians, and residents.

"This is how I learn the concerns of communities so I can effectively engage with the right stakeholders to ensure everyone is working to tackle issues affecting local people." 

PCC Mark Shelford
Last Friday (June 17) the PCC started his day in North Somerset with a visit to Sefton Park Rehab. The Sefton team discussed their thoughts on the extension of rehab periods as well as the need for stronger partnership working among rehabilitation providers.
As part of his visit to North Somerset the PCC met with Cllr Steve Bridger, for a discussion on Prisoner Pods and the positive impact they will have in helping those leaving prison to join a community space.
Mark said: "I had a thoroughly insightful day meeting the fantastic team at Sefton Park Rehab and learning in full about the rehabilitation process.

"Equally, I enjoyed discussing the positive impact that Prisoner Pods will have with Cllr Bridger, and I look forward to attending a local council meeting in future."