Deputy PCC visits South Gloucestershire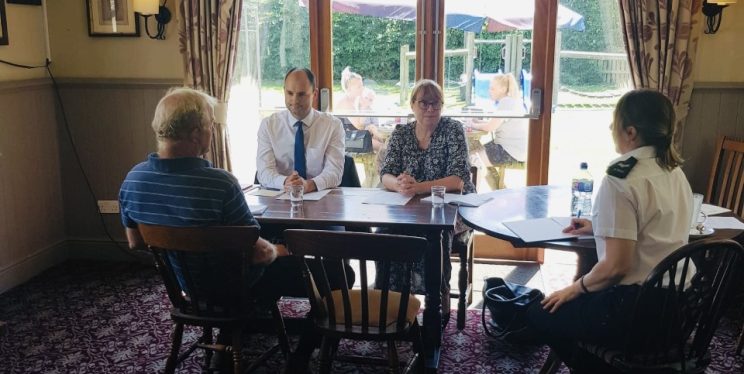 Last Friday (8 July), Deputy PCC Claire Hiscsott visited South Gloucestershire to speak with and understand the concerns of local communities.
The Deputy PCC started her day by meeting with the Leader for South Gloucestershire Cllr Toby Savage to hear about road safety concerns and policing issues raised by local people.
Following this meeting, the Deputy PCC held a joint drop-in surgery with Luke Hall MP in Iron Acton. Issues raised by local people included speeding concerns in Shirehampton. The Deputy PCC will feedback these concerns to both PCC Mark Shelford and Avon and Somerset Police's Road Policing Unit and Luke Hall MP will be discussing the lack of pavements in this residential area with the council.
Claire also heard about the impact hare coursing has on rural communities. Hare coursing is an illegal, competitive activity where owners race their dogs against wild hares to test their speed and agility. The race often ends with one of the dogs capturing and killing the hare.
Local farmers are worried about an increase in this activity over the summer months due to considerable damage it causes to their property and livestock. The Deputy PCC will make the Avon and Somerset Police's Rural Affairs Unit aware of these concerns.
"It was brilliant to be out and about last Friday meeting with key stakeholders and local people.

"I will be discussing the concerns raised by local people with PCC Mark Shelford so we can find ways to support our communities and address their police and crime concerns."

Deputy PCC Claire Hiscott