PCC Mark Shelford holds second Performance and Accountability Board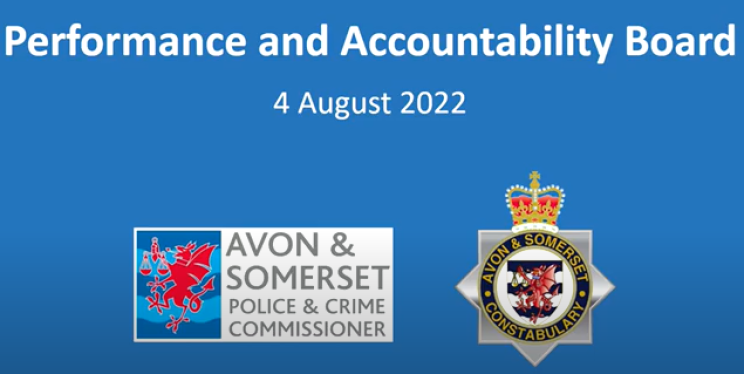 Last week (Thursday 4 August), PCC Mark Shelford held his second Performance and Accountability Board.
The meeting, which was broadcast live to local people and partners, sees the PCC hold Chief Constable Sarah Crew to account for delivering policing that is efficient and effective by scrutinising and asking questions about police performance and priorities in the force area.
Following his introduction, the PCC asked Chief Constable Sarah Crew and Assistant Chief Constable Jon Reilly how Avon and Somerset Police are dealing with an increased demand during the summer months. The Chief Constable explained the demand status plan and Operation Hibiscus, which sees other areas of Avon and Somerset Police supporting response teams during this busy period.
The PCC and Chief Constable discussed the National Police Chief Council's (NPCC) Police Race Action Plan, in particular building trust and confidence among Black people and why creating an anti-racist strategy is critical.
On the topic of racial disparity, PCC Mark Shelford asked for an update on progress being made to implement the Identifying Disproportionality in the Criminal Justice System recommendations. Chief Constable Sarah Crew discussed the joint letter to partners asking for their commitment to co-create a joint strategy that tackles disproportionality as well as already procuring a consultant who will support on the delivery of this work.
Questions relating to specific recommendations were also asked including Stop and Search and the creation of a youth-focused external scrutiny group.
A number of the PCC's other questions related to Violence Against Women and Girls (VAWG) including leadership academy training objectives relating to tackling misogyny; the need to increase public awareness regarding Avon and Somerset Police's work to support those with lived experiences of sexual assault and rape; and the super-complaint regarding police perpetrated domestic abuse.
During the performance section of the meeting, the PCC asked how Avon and Somerset Police are tackling drug crime in communities with the Chief Constable and Assistant Chief Constable emphasising the importance of engagement officers in schools.
Other topics discussed included a potential increase in crime in the autumn due to the cost of living crisis, the importance of citizens in policing and reducing the amount of time for Avon and Somerset police to reach a charging decision.
"Many thanks to the Chief Constable and Assistant Chief Constable for joining me at the second Performance and Accountability Board, and answering my questions in such detail.

"As PCC, it is important that I put forward the questions and concerns of local people to ensure the Chief Constable is delivering an efficient, effective and legitimate police service that keeps our communities safe. Chief Constable Sarah Crew answered a number of important questions and I hope her responses will continue to provide reassurance to residents.

"Our next Performance and Accountability Board is 2 November so, if there are any topics you would like discussed, please do not hesitate to get in touch with my office – details can be found on my website."

PCC Mark Shelford
You can tell us your thoughts about the Performance and Accountability Board by completing our short survey.