Preventing fraud in our communities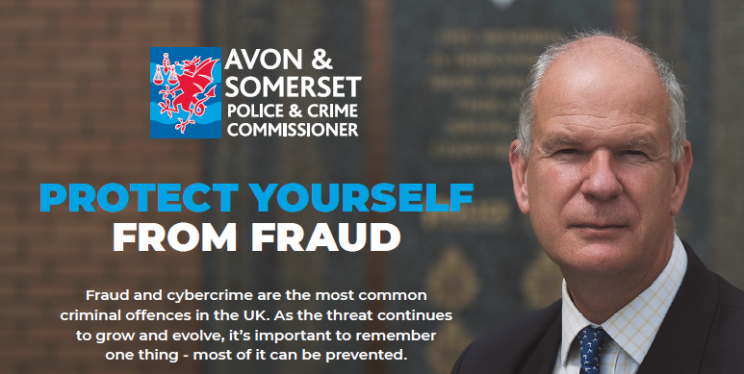 The Office of the Police and Crime Commissioner (OPCC) has distributed fraud protection postcards to over 160,000 households across 60 postcodes in Avon and Somerset to help prevent local people falling victim to scammers.
Fraud continues to grow significantly and now represents more than a third of all estimated crime, with 4.4million incidents reported in the Crime Survey for England and Wales year ending September 2020. Fraud causes severe harm to both victims' finances and mental health, with 74% of fraud victims reporting being emotionally impacted.
As the national PCC lead for Economic and Cybercrime, PCC Mark Shelford is passionate about educating local people on how to spot the signs of fraud to prevent them becoming victims in the first place.
The postcard includes advice and simple tips that individuals can follow to help protect themselves from fraudulent activity and break the chain of communication between fraudster and potential victim.
The postcard is also available to local people to download and print from the OPCC website.
"I wanted the team and I to produce something that local people can keep beside their phone, pin on their fridge or by their front door so if and when a scammer contacts a resident the latter knows how to spot the signs of fraud and how to protect themselves.

"By following just a few steps, we can make it harder for fraudsters to steal money or personal information when online, on the phone or at your front door.

"With fraud crimes continuing to increase, I believe that anyone can benefit from this information, whether they have previously been a victim or not."

PCC Mark Shelford
The pandemic saw an evolution in fraud as criminals continuously looked for new ways to target potential victims.
The first half of 2021 saw a 285% rise in cyber fraud and losses of over £700million, partly fuelled by the increased use of online and social platforms during the pandemic.
New fraud crime types such as Authorised Push Payment (APP) and romance fraud are continuously emerging at a rate that challenges the development and dissemination of effective tailored prevention initiatives and messages.
The campaign targeted areas in Avon and Somerset that have a high density of residents who possess a potential high risk characteristic of falling victim to fraud.
Take Five To Stop Fraud advice
Stop: Taking a moment to stop and think before parting with your money or information could keep you safe.
Challenge: Could it be fake? It's okay to reject, refuse or ignore any requests. Only criminals will try to rush or panic you.
Protect: If you think you've been a victim of fraud, contact your bank immediately and report it to Action Fraud online at police.uk or by calling 0300 123 2040.