PCC & DPCC support national knife crime awareness week.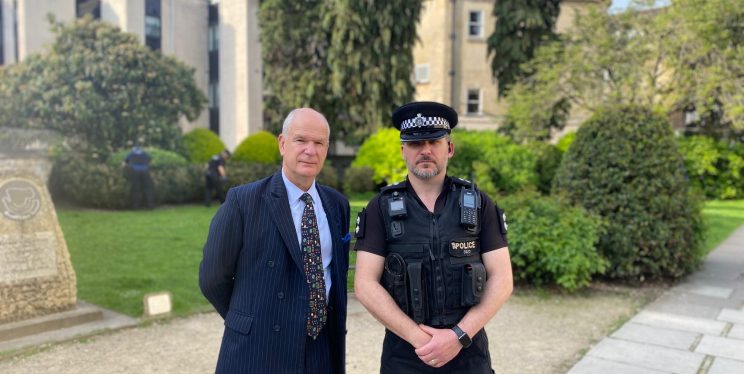 PCC Mark Shelford and Inspector Jon Nash
The Police and Crime Commissioner (PCC), Mark Shelford visited a knife sweep in Bath yesterday, supporting National Knife Crime Awareness Week and Operation Sceptre. This knife crime sweep was one of many happening across the country, searching open areas where intelligence suggests weapons may be stored or hidden.
Operation Sceptre occurs twice a year and is led and co-ordinated by the National Police Chief's Council (NPCC) in an effort to tackle knivfe crime. This week, Avon and Somerset Police with the support of partners are facilitating a variety of awareness and prevention activities, many of which take place throughout the year to help keep our communities safe.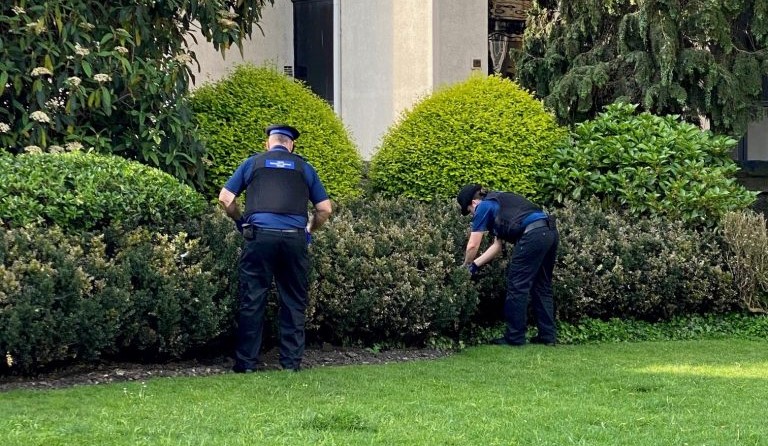 "Proactively tackling knife crime forms a central part of my Police and Crime Plan and the recent knife crime survey my office facilitated, has enabled me to gain a greater understanding of the perception of knife crime across our county.

"A staggering 47% of respondents were under the age of 18, and their top answer to combatting knife crime was to help young people get support and access to employment or education. Many of our partners are delivering fantastic initiatives to help young people who Not in Education, Employment or Training explore their options and courses available to them.

"This week has also seen an increase in talks to local young people about the severe consequences of knife crime. These talks and other initiatives do not happen just when it is an awareness week, but are delivered all year long. They not only help raise awareness and discourage knife crime but encourage those with information on anyone who regularly carries a knife to report it. You can report information either directly to the police or anonymously to the charity CrimeStoppers.

"Finally, I would like to take this opportunity to thank Avon and Somerset Police and partners for the proactive work they deliver to tackle knife crime."

PCC Mark Shelford
This weeks awareness and prevention activities across Avon and Somerset have included pop-up information stands, hi-visibility patrols in high demand areas and educational talks to young people.
Earlier in the week the Deputy Police and Crime Commissioner (DPCC), Claire Hiscott, attended a Primary School, where pupils discussed the dangers and consequences of carrying a knife. Later that day, Claire attended Langport Youth Club, where young people listened to a knife crime awareness talk from their local neighbourhood police officers.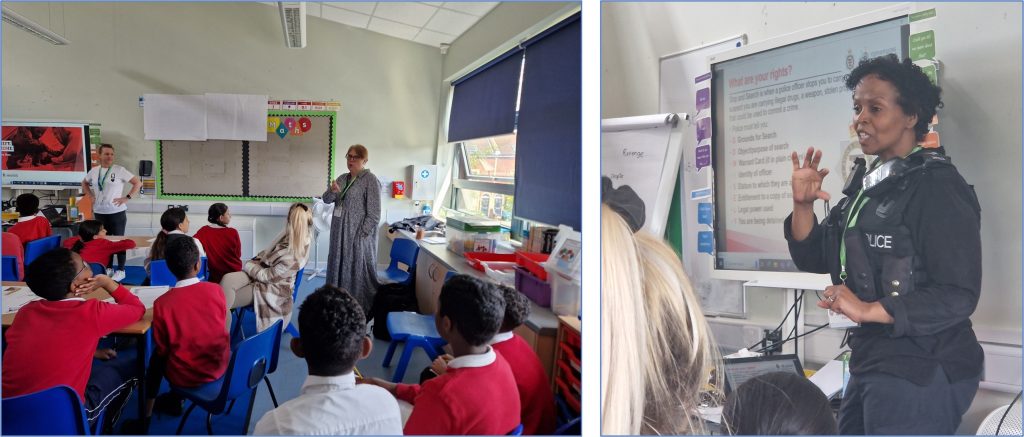 "Knife crime can destroy lives and break communities, which is why I have taken The Ben Kinsella pledge to take help tackle knife crime. I believe that educating our young people on the consequences of carrying a knife and how they can report their concerns, will reduce and prevent future knife crime.

"I would like to thank all of the young people I recently met and discussions knife crime with. They have provided me with reassurance that they understand the dangers and will spread their learning to their peers."

DPCC Claire Hiscott
---
Reporting a concern
How to contact the police with any concerns:
In an emergency, call 999
In a non-emergency, call 101
Or you can report a non-emergency via their online form.
Alternatively, you can anonymously report crime information through the charity CrimeStoppers, anytime of day or night:
Call CrimeStoppers on 0800 555 111
Young person can use the charity's youth service, Fearless, again 100% anonymously, online:
---
Knife surrender bins
To encourage people to safely discard of any knives and weapons they are carrying and prevent street-based knife crime, Avon and Somerset Police have installed a number of weapon surrender bins. To find your nearest surrender bin, please click here.