PCC visits North Somerset Support Services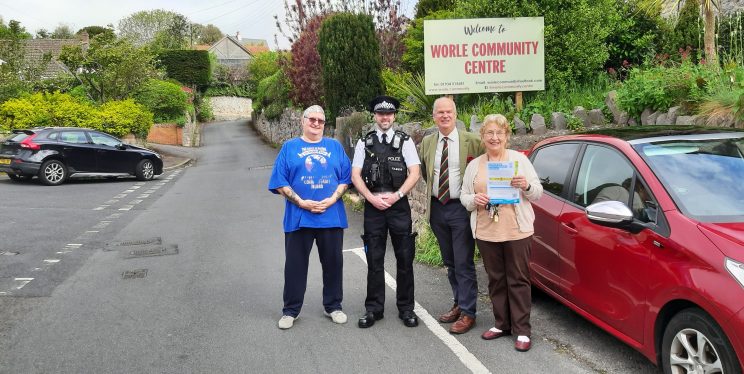 PCC with OPCC Staff Officer and volunteers from Worle Community Centre.
On Friday the 5th of May, PCC Mark Shelford, visited Worle Community Centre, North Somerset Youth Offending, For All Healthy Living Company and Wanted not Wasted.
Each service provided a tour of their facility and overview of the work they provide within North Somerset.
---
Worle Community Centre
Worle Community Centre (WCC), is run by the community for the community. The venue has three halls, a stage, community notice board and kitchen with a public entertainment licence. Every Friday they have a coffee market, which PCC Mark Shelford attended and met with the local residents.
Activities you can get involved in, include:
2nd & 4th MONDAY OF THE MONTH. BOULES CLUB: £2.00 includes hot/cold drink & biscuits ·
1st & 3rd MONDAY OF THE MONTH.SCRABBLE CLUB: £2.00 includes hot/cold drink & biscuits ·
To find out more, please click here.
---
North Somerset Youth Offending Team
The North Somerset Youth Offending Team work with young people and families to prevent offending behaviour in the first instance and re-offending. Other services include:
Facilitating change in young people by identifying and addressing needs and behaviour through individualised holistic programmes to develop law abiding lifestyles and to fulfil their potential.
Provide services to the victims of young offenders known to the Youth Offending Team.
Managing Youth Offender Panels.
Provide programmes to parents of young people who are at risk of or have offended/been excluded from education.
Provide information to the Court and partner agencies in accordance with information and sharing protocols.
To find out more on the NSYOT, please click here.
---
For All Healthy Living Company
Based in the South Ward of Weston-super-Mare, The For All Healthy Living Company (FAHLC), runs the Healthy Living Centre and is commissioned or grant aided to run other services and projects. They promote and work in partnership with local people and agencies to increase access and ensure local residents are key partners in the design and delivery of local services. FAHLC is a social enterprise which reinvests in the health and wellbeing of the local community. It is led by an independent board consisting of representatives from partner organisations and residents. This ensures that the South Ward community has a strong voice in how the centre is run.
To learn more about the services they offer, please click here.
---
Wanted not Wasted
Wanted Not Wasted (WOW) was formed in March 2012, as a non-profit Community Interest Company. They are made up of a small, dedicated team of staff and local volunteers.
It was identified that some children were spending a large proportion of their time on the streets in the Bournville estate, Weston Super Mare. So an empty shop on the estate was turned into a drop in for children, providing a safe but fun space.
WOW believe in early and timely intervention, with all of their services aimed at helping children reach adulthood safely. From the small beginnings in 2012, WOW now provides children's groups two days a week and free one to one support, counselling and mentoring, four days a week.
To find out more, please click here.
---
"Thank you to all of the services I visited today, I enjoyed learning about the fantastic support being offered to residents of North Somerset."

PCC Mark Shelford