Avon and Somerset Police & Crime Commissioner celebrates Volunteer's Week with appointment of 19 new members to its scrutiny panels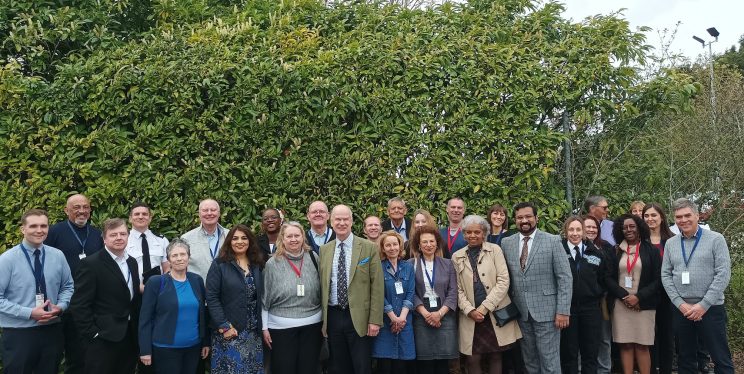 PCC with volunteers in 2022
A special celebration is set to take place at the Avon and Somerset Office for the Police and Crime Commissioner (OPCC) to mark Volunteer's Week 2023.
Today (Thursday June 1st) marks the start of Volunteer's Week 2023 and the OPCC and the Police and Crime Commissioner (PCC) Mark Shelford will be recognising all the important work volunteers do, for the office and Avon and Somerset Police, to make our communities safer. 
The event will recognise the work of the volunteers and the appointment of 19 new members across three independent scrutiny panels and Independent Custody Visitor roles.
The appointments come following a highly successful recruitment campaign earlier this year designed to extend the reach of the volunteer community and improve the diversity of the panels as part of the OPCC's public scrutiny of police work across the region.
The 19 new panel members will take up their roles in June in one of four scrutiny initiatives operated by the OPCC:
Independent Scrutiny of Police Powers Panel (ISOPP) – reviews police Use of Force, including looking at bodycam footage and commenting on stop and search.
Independent Scrutiny of Police Complaints Panel (ISOPC) – assesses complaints made to the police by members of the public, assessing them for efficiency, fairness, transparency and service to communities.
Out of Court Disposals Panel (OOCD) – This panel includes members of the Criminal Justice System and victim support services. The panel meets quarterly to review whether decisions were proportionate, timely, victim-focused and rehabilitative.
Independent Custody Visitors Scheme (ICVs) visit police stations to check on the welfare of people detained in custody by the police.
There are still roles available specifically with the Independent Custody Visitors (ICV) scheme, and the PCC would like to highlight this crucial role during Volunteer's Week to encourage more applicants. The scheme covers the custody units in Bridgwater, Keynsham and Patchway.
The ICV scheme is where volunteers visit police stations to check on the welfare of people detained in custody by the police to see the conditions in which they are being held and to ensure their rights are being observed.
Volunteering is central to the way the PCC and Avon and Somerset Police operate, including wide-ranging areas such as the Community Watch Schemes, the Special Constabulary and the Independent Advisory Groups.
The celebration event on the 2nd June is being held at Avon and Somerset Police Headquarters to coincide with National Volunteer's Week, which has a theme this year of 'Celebrate and Inspire'. 
"Volunteering is core to the way we operate. We rely on members of the public to be the voice of local people in scrutinising and holding the Chief Constable to account to ensure effective and efficient policing that serves our whole community.

"I'm delighted to be welcoming our new panel members and would like to thank them and our many volunteers who give up their time to play an active role in their communities and in ensuring we maintain a public voice in the future of policing across the region. We couldn't do our jobs without them."  

Deputy PCC Claire Hiscott