PCCs ask for letting agents support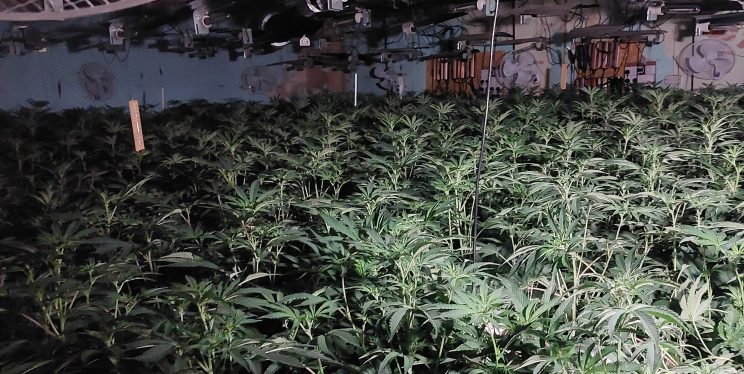 Inside a cannabis farm in Avon and Somerset
A letter from the five PCCs has been sent to the British Landlord Association and National Residential Landlords Association from the asking letting agents and landlords to ensure their staff are aware of the signs of cannabis cultivation
The five south west Police and Crime Commissioners (PCCs), police forces and partners are working collaboratively to tackle drug crime and exploitation, to make the south west no place for drugs.
As part of this work, the PCCs asked letting agents for their support in identifying and reporting properties that may be being used for criminal activity, particularly related to the commercial production of cannabis.
All letting agents have a legal obligation to report concerns of illegal activity within any respective property portfolio. In cases where cannabis cultivation is discovered, the property may become a crime scene and there is the prospect that the letting agent may be implicated.
What is cannabis cultivation?
Cannabis cultivation, also known as a cannabis farm, is the practice and process of producing substantial amounts of cannabis flowers. The PCCs want to raise awareness of what to do if you think a cannabis farm is taking place in a property.
The charity CrimeStoppers is also running a national campaign to raise awareness about cannabis cultivation.
Effects to a property used for cannabis cultivation
There is no stereotype for a cannabis farms premises; they have been found in residential properties, industrial units, behind shop fronts, warehouses, rural building to vacant and derelict sites.
Most properties that have been converted into a cannabis farm have been rendered uninhabitable, after tenants have ripped out carpets, knocked down walls or grown plants upstairs, causing the floorboards to rot away. Several properties have been completely destroyed.
Properties that are converted into a cannabis farm are hazardous places, which pose a substantial fire risk. Often the properties electricity meter is bypassed, electrical circuits overloaded, and wires run close to water-filled pipes. These drastic changes are done to support the high-intensity lights, fans, and irrigation systems.
In addition, cannabis cultivation and illegal drugs create misery and harm to the vulnerable individuals within society who are often forced, coerced, or exploited into conducting this illegal activity on the behalf of organised criminals. It also has a knock on effect to the wider community.
How can you help?
Below are some of the signs that indicate a property is being used as a cannabis farm. If you are a letting agency, please share these with your team and the details on how they can report any suspicions.
Signs to look for with a tenant:
Asking for complete privacy, requesting no periodic inspections, or preventing the inspection of the property even when given reasonable notice
Changing locks to keep agents and landlords away from the property
Offering to pay several months in advance
Poor or no references from a previous letting agent
Preference to pay rent in cash without reasonable justification
Wanting to keep the utility bills in the landlord's name
Physical indications with a property
A powerful distinctive sweet, sickly aroma
Blacked out windows
Chinks of bright light throughout the night
Electricity meters tampered and/or altered
Frequent visitors throughout the day and night
New cabling, sometimes leading to nearby street lighting
Noise/buzz from fans
Noticeable levels of condensation on windows
Substantial amounts of rubbish, including compost bags.
Consequences for a letting agent and/or landlord
Financial loss rectifying the damage
House insurance providers may not pay out for damage to property
Large utility bills/rectification fees
Loss of rent
Police and council investigations
Reputational loss.
The legal obligation
In the most extreme cases, should the letting agent be complicit in, or have facilitated this illegal activity, then they may be subject to investigation for money laundering under the Proceeds of Crime Act 2002, particularly if evidence suggests they were aware of the activity and were accepting rent paid from the proceeds of this criminal activity.
It may also be necessary to share any information obtained with partner agencies such as the National Trading Standards – Estate and Letting Agency Team, the Department for Work and Pensions (DWP) and Her Majesty's Revenue and Customs (HMRC), who may consider further investigation or sanctions appropriate.
Information to report
Below are some examples of the useful information to gather and pass on:
Any known vehicles linked to the property/activity, where possible including the make, model, colour and/or registration plate
Any names and descriptions of individuals on the lease or linked to the property
Concerns and/or suspicions e.g., distinctive odour, refusal to an inspection
The overall appearance of the property, as this provides an indication as to whether the site is, was, or is intended to be a cannabis farm
The property address.
How to report
If you are aware of any immediate dangers or risks to life, please call 999
Otherwise, report as much information as possible to the police using 101 or via the police online reporting form
If the property is not linked to your agency and you would like to remain 100% anonymous, you can report what you know to the charity CrimeStoppers, either online at crimestoppers-uk.org or via their free phone number 0800 555 111. Their promise of anonymity means that the only person who will know you called, is you
Alternatively, the national modern slavery and exploitation helpline, which is part of the charity Unseen, provides information, advice, and guidance about any modern slavery issues. The modern-day slavery and exploitation helpline number is: 08000 121 700.