PCC visits local community groups in Bristol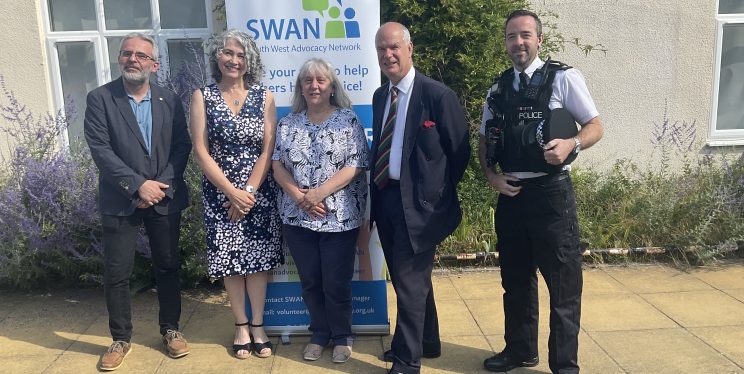 Last Friday (21 July), PCC Mark Shelford visited local community groups in Bristol to understand how they support the city's communities.
The PCC visited SWAN's Victims of Crime Advocacy Service (VOCAS). VOCAS is a free, independent and confidential advocacy service for adult victims of crime and anti-social behaviour (ASB) who need additional support due to protected characteristics.
The Office of the Police and Crime Commissioner (OPCC) funds SWAN to run VOCAS so victims can access practical and emotional support to help them cope and recover from their experience and to help them engage with the Criminal Justice System if they choose to do so.
The VOCAS team told the PCC that they have developed a self-advocacy toolkit for ASB cases that aims to deliver support to survivors based on the principles of self-advocacy and empowerment. The toolkit also contains information about other organisations and statutory agencies that could provide support to the victim.
Following this, PCC Mark Shelford met with the Chinese Community Wellbeing Society (CCWS) team.
Rosa Hui, one of the group's founders, gave an update about the organisation's work and some of the challenges faced by the Chinese community in accessing services. Work includes supporting the health and social care needs of the Chinese speaking community in the southwest as well as advising Chinese students who attend local universities.
The organisation continues to breakdown the isolation experienced by the Chinese community and works with individuals to develop their self-confidence.
PCC Mark Shelford then met with ACH, a social enterprise who deliver support services including accommodation and integration services to refugees and migrants.
The PCC took part in a round-table discussion with founder and CEO of ACH Fuad Mahamed and Senior Business Development and Projects Manager Tom Dixon. Fuad, a refugee from Somalia, explained how ACH has grown from a small-scale housing provider to a leading provider for resettlement and integration services for newly arrived refugees in the UK.
Issues discussed included exploring ways the police can build trust among all communities and employment opportunities within policing.
Later in the day, PCC Mark Shelford visited Key4Life in Easton, an innovative crime prevention charity that rehabilitates young men in prison or at risk of offending.
Most of the charity's engagements and activities are led by Key Mentors, former offenders who have now turned their lives around. Rehabilitation programmes that help young men includes music, sport, storytelling, equine therapy, neuro-linguistic programming and emotional release sessions. Key4Life has also turned a prison-van into a mobile café, providing the young men with transferrable skills.
The PCC also met with Sixty-One. The organisation initiated the Bristol city-wide partnership to support people in prison and following their release back into communities. Delivered by dedicated volunteers, churches and local businesses, the organisation delivers relational and community-based to prison leavers.
PCC Mark Shelford spoke to Luke, one of the trustees who brings lived experience to his role, who explained the need for more collaborative work to ensure people in and leaving prison feel supported to integrate back into their communities.
Finally, PCC Mark Shelford visited LifeCycles's bike workshop at HMP Bristol. Lifecycle takes donations of unwanted bicycles from the public where, with the help of prisoners, they clean and refit them. Experienced mechanics work with prisoners to teach them mechanical, transferable skills. These refurbished bikes are sold back to the public or given to refugees, asylum seekers or people on low incomes.
"My latest engagement day was certainly a busy day, and it was brilliant to meet so many varied community groups who go above and beyond to support local people.

"Many of the people who work or volunteer for these organisations often have lived experiences and I want to say a massive thank you to them for making a difference to residents in the city."

PCC Mark Shelford